Welcome to Allguitarstuff!
Hi there, my name is Peter Erlandsson and I'm a Swedish guy who's had a love affair with playing music for almost 40 years. My first contact with a musical instrument was the flute, in second grade during music class. All my friends hated it, but I was immediately hooked, and practiced every opportunity I had. My parents, who got really tired of listening to their son's relentless flute playing, suggested I take piano lessons instead, which I happily did. 
In my teens I got involved with my first band, as a keyboard player, and I must say I had never felt so thrilled about anything in my life! Being in a band was the best thing EVER and I eventually ended up as a drummer, and continued to play drums in several other bands.
So what about guitar? Yeah, ironically enough that was the one instrument I always had my eyes on, but never really got into, for various reasons. I often talked about it with my wife, who eventually got so fed up with listening to me that in 2006 she bought me an accoustic guitar for Christmas and basically said: "Stop talking, start playing".
I know, my wife is awesome! I finally got acquainted with the instrument I loved, and set off on my guitar journey. 17 years later and I can honestly say I'm more passionate about it than ever. Never became a rockstar though, but hey, sometimes gigging in front of friends and family can still make you feel like one.
Playing guitar is absolutely awesome, and is a never ending adventure with many ups and downs, and a ton of gear, lessons and techniques to navigate through, which can be quite overwhelming at times. Especially when you start out.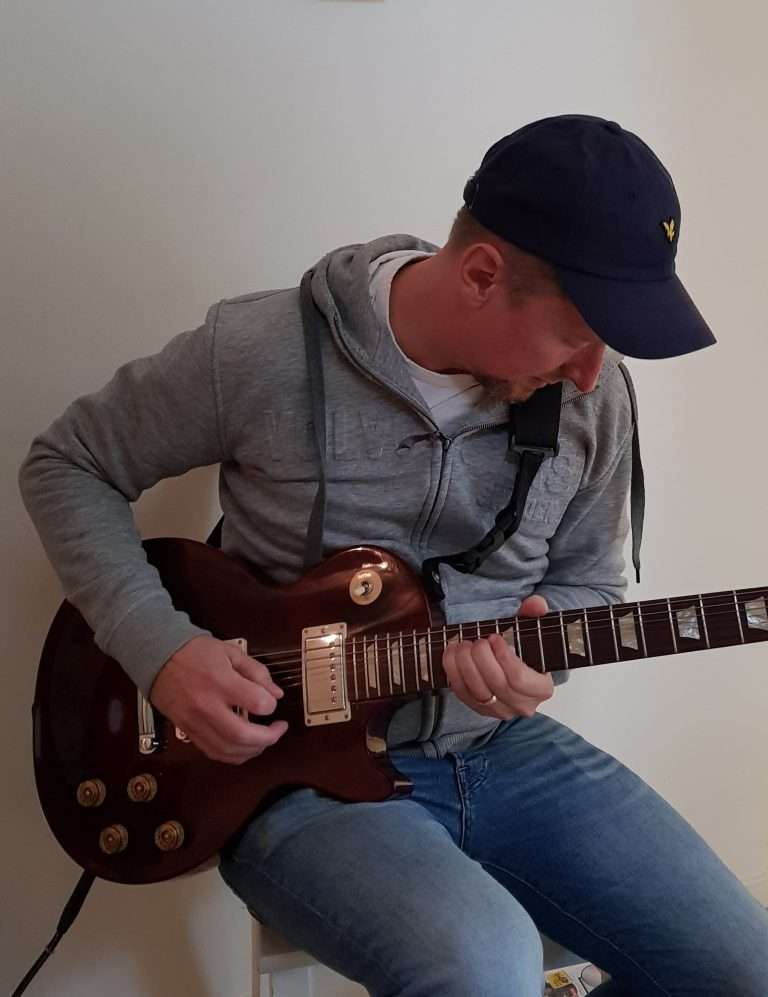 My mission on this site is to help you evolve as a guitar player, and to make that journey as fun and creative as possible.
All the content you will find on this site has been planned and edited by me to ensure we meet the highest quality standards. I sometimes use freelance writers to help me put articles together but nothing is put online without a green light from me, the chief editor. This is to ensure all information we publish is accurate and you can trust it to make purchase decisions.
As much as possible we try to get our hands on the items mentioned in this blog to properly test them and try them out, but it is not always possible so we also rely on extensive online feedback from real customers of these items.
I also spend a lot of time in my local stores and talk to their staff to get to know all the items that come out and which ones may be of interest to you.
All in all, I want this site to be a place you can trust and that is not rigged by brand sponsorship so you can use our information to make the best decisions for yourself when it comes to your guitar journey.
So why should you read Allguitarstuff? I would say the main reason you would want to check us out is because you want to dramatically improve your guitar playing with as few unnecessary steps as possible, whether you just got started or are a few years in.
If you resonate with the following statements, you will enjoy the content you find on this site:
You're just starting out and you want to get helpful tips on the essentials, and not feel overwhelmed.

You feel you've hit a plateau where things are no longer going anywhere, and you want to evolve as a guitar player.

You want gear advice based on customer experience and not commercial sales pages
If you are on board with this, I look forward to having you read our guides and tests. 
Founder and Editor at Allguitarstuff