Most of the good stuff you find comes with a price tag, or a free trial that still wants your credit card details for the "inevitable upgrade".
We always try to keep an eye on the free stuff available, and recently we searched the internet extensively to see how updated we were. And that's how we came up with this list of the 11 best free online guitar lessons, where free really means free and trial periods don't need a credit card.
Also, sites, channels and courses of poor or inconsistent quality were skipped altogether, even though they were free. Of course, what is listed below are far from the only ones, and with a bit of time and patience I'm sure this list could grow a lot longer. These were however sites and channels we were either already familiar with (for good reasons), or that stood out in a positive way and could be easily tried.
Which Online Guitar Lessons Are Right For Me?
Needless to say, most options worth looking into are paid ones. Most of them, however, are geared towards guitarists who know exactly what they're looking for, and what they want to improve. If this is not you, or you just started playing and feel a bit undecided whether to continue, I would save my money and build my foundation using the free lessons available. And then build from there with any of the excellent paid options on the market, which we of course will cover on this website.
Only you can decide what is most needed in your playing, and which level you're at. The key thing for any guitar course or program or lesson is how it is delivered. A teacher with great communication skills will make all the difference in the world. A skilled communicator can make even complex ideas and methods easy to understand and digest. They will also know how to keep you focused and enthusiastic, using bite-sized materials that makes it easy to find the time to practice and measure your progress.
Dividing It Into Websites And Youtube Channels
We felt it was important to keep these separate since they cater to different needs. Websites tend to have entire courses built for learning. This means they are more structured with a step-by-step approach, where you keep building on what you've learned. This is the preferred way for absolute beginners, and the easiest and fastest way to get started, and to develop.
Youtube channels on the other hand don't have their material structured that way. Instead you have to search for specific things or topics and see what you find. However, they are free, and shorter videos are very easy to digest. This is ideal if you've played for a while and know what you're looking for. There are a lot of YouTube channels for guitar out there, and I can't even imagine how long it would take to sort through all of the pages of videos just to find some quality lessons that fit your learning style. The ones below are some of our personal favorites.
Websites
I found Justin Sandercoe about 10 years ago, and immediately liked his very easy and direct way of teaching guitar. Amazingly enough there is still a lot of stuff on his website that is all free, especially for beginners. Sign up and you'll get a full bag of goodies that will get you started in no time at all.
Justin is good at what he does, and he comes highly recommended from a number of skilled guitarists around the world. As far as free lessons go, this is in my opinion as good as it gets. And, when you're ready to move on to bigger and better things there are a lot of paid options to look into here. Justin covers anything and everything you could want to learn, and he does it incredibly well.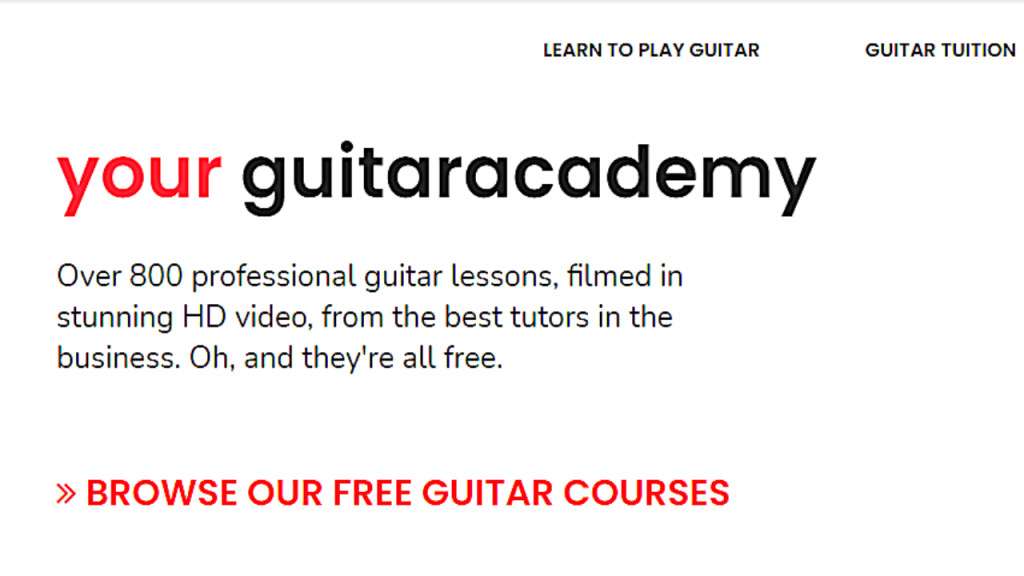 With Your Guitar Academy you get over 800 professional guitar lessons in HD video format, which is awesome. They range from all the basic essentials, to various genres and styles (including the styles of famous guitarists). They also cover scales and techniques and even guitar theory. Most lessons are not structured into particular programs, but there is a 30 Day Beginner Challenge in there for those interested. Regardless, there is so much good material here that you're bound to find something you like and that can be useful to you. Many lessons also come with backing tracks to practice over. And yes, it's all free.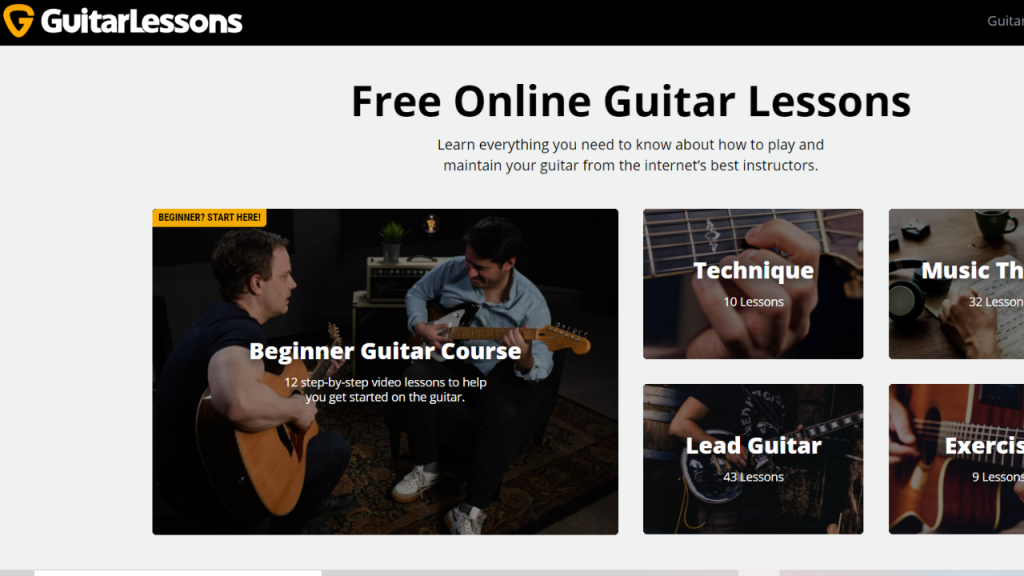 Another great site with completely free lessons. They cover a wide range of different styles and techniques in their "Quick-Start" series, and they also teach many songs . The site is easy to navigate, and finding a lesson and getting started is both easy and quick. As with Your Guitar Academy, there is no particular structured programs available, but rather a buffet of lessons for your perusal.
Here is another good guitar class aimed at beginners. It's fairly short (about 1 hour and 12 minutes), but offers structured learning that starts at the very beginning with the most basic chords and strumming patterns. Easy enough to get started, and completely free if you sign up for a Skillshare free trial. At this moment that free trial is 14 days, and is likely subject to change so check that out before signing up.
Next one on the list is also aimed at beginners, with guitarist Henry Olsen as your instructor. It takes a similar route in the way it's structured, but is a lot longer with more lessons included. It stretches from the most basic stuff to a great number of songs to guitar and music theory, and comes in at a little over 8 hours and 30 minutes. This is also skillshare, so the same rules for a free trial apply.
In my quest for free guitar lessons I came across this gem. Andy Crowly, who runs the site, guides you in a very structured manner that is very easy to follow. I was very pleased to see a ton of lessons in here, ranging from really basic chords and strumming to more advanced chords and techniques, including scales and practice routines. Although most of the beginner course is free, there is an AAA (Access All Areas) membership option as well for £ 9,99 / month. This is more for once you're out of the beginner course, but also to give you access to a few restricted lessons in the free mode.
As you might expect, not as extensive as their paid lessons, but still quite a large variety of lessons and materials. They cover everything from beginner's guides, to song tutorials and also some advanced stuff. Regardless of your skill level there are going to be interesting things here for you to learn. As far as instructors go, it's a very mixed bag, but with a bit of trial and error you should be able to find one to your liking.
Free is good, and when it's delivered in bite-sized manageable chunks it's even better. True Fire guitar lessons do just that. They include Hands On Guitar: beginner's guide and beyond beginner, Acoustic Guitar For Beginners, Guitar 201: Breakthroughs, Blues Guitar For Beginners and Learn Guitar in 21 Days. All you need to do is to enroll in Udemy.
Youtube Channels
What can I say, I love this channel! Paul is a great guitar player who tirelessly shows you all the sweet things rarely covered in your average guitar course. For instance how to find great guitar tones, what chords go in what key, which chord progressions that work well together etc.
A lot of his content is very inspirational, and packed with tips & wisdom that will help you greatly. And always delivered in a way that is both entertaining and easy to follow. Maybe geared more towards players with a few songs under their belt, but beginners will definitely find gems in here as well.
One of my all time favorites, hands down! What I love about Marty is how he breaks everything down so that it makes perfect sense. He guides you with great warmth and charisma, and all his lessons are perfectly paced for beginners, and are a lot of fun. I've recommended this channel to everyone I know who started playing guitar. Sure, if you're an intermediate or higher you might want faster paced material. And there is plenty of that around.
Another cool guitar channel, that primarily aims at improving your technique and not so much teaching you songs or guitar theory. Ben Eller delivers all his wisdom in a very up beat and sometimes hilarious manner, and it feels almost like you're taking advice from your best friend. If you're looking at getting rid of some of your bad guitar habits (and getting a good laugh while doing it), this is definitely the channel for you.
What to do next?
By now you should have a pretty good understanding of some of the free alternatives out there, and which one is best for you. So pick the one you like the most and get started on your journey. If you want some tips on easy songs you can learn as you increase your skills, check out our 21 Super easy guitar songs for beginners.