We checked out five of the best 4-channel guitar amps on the market and found that the Engl Savage 60 Mark II is the best 4 channel amp. 
Four-channel amps represent the height of flexibility and tone-shaping for guitarists. But, manufacturing a four-channel amp can be expensive, so most brands only offer one or two four-channel models, if they make any at all. While you won't find a ton of amps to choose from, you'll have a major decision to make when choosing between them.
A four-channel amp, like one of the excellent models you'll see below, should be the last amp you'll ever need. This amp should deliver everything you need and more, with all the headroom and flexibility necessary to do everything you need it to today and into the future. That's why the Engl Savage 60 Mark II is our top pick as the best 4 channel guitar amp.
The Savage 60 is a snarling powerhouse with a lower ceiling, so you can really push this amp to coax all of the nuance and character from its EL34 power amp section. The Mark II delivers sparkling cleans, worlds of crunch, and a lead channel that sings and allows your solos and leads to soaring into the stratosphere.
Read on as we cover five of the best options if you're looking for a 4-channel guitar amp. We'll also show you what to look for when selecting the perfect amp.
Top Five 4-Channel Guitar Amps
Without further adieu, let's dive in and take a look at the five best 4-channel guitar amps available today.
Four independent footswitchable channels
2×12 Celestion speakers
MIDI controllable
Independent reverb volume for each channel
Dual effects loops
The JVM Series has been Marshall's flagship amplifier for decades now, and it continues to be one of the most powerful and versatile 4-channel amps on the market. If you're looking for that signature British stack tone, the JVM410C is the ideal way to achieve it.
This amp features four channels, each with three different voicing modes for a total of 12 sounds that are all accessible via the included footswitch. The layout is extremely logical, with independent volume, reverb, and EQ controls for each channel and master controls for resonance, presence, and volume.
This British powerhouse is loaded with two 12" Celestion speakers, and it delivers a punishing 100 watts that's fit for any stage.
Pros
Fully independent controls for each channel
Includes 6-way footswitch with onboard memory
Celestion speakers for classic Marshall tone
Cons
Doesn't have the same warmth and saturation as older JCM Marshalls
Open back cab design lacks bass response
---
200 solid-state watts
Weighs less than 10 pounds
Switchable power settings (2W, 20W, or 200W)
Switchable cabinet modes (guitar or full range)
Hughes & Kettner have been producing boutique-quality tube amps since the mid-80s, and they're loved by everyone from Nuno Bettencourt to Adam and Joel from Killswitch Engage.
The Black Spirit is a snarling monster that delivers 200 punishing watts to four independent channels. If you need tons of headroom, this is the amp for you. The Black Spirit 200 delivers four channels: clean, crunch, lead, and ultra that cover virtually any tone you can imagine.
There are also built-in effects and a noise gate, so you're able to tailor your signature sound without a pedalboard worth of clutter at your feet. You can control virtually every aspect of the amp and access all your presets from the footswitch. Unfortunately, you'll need to purchase one separately.
Pros
Tons of headroom
Awesome looking neon blue front panel
Switchable between 2, 20, or 200 watts
Extremely lightweight
Cab modeling allows you to coax excellent tones from any speaker cabinet
Cons
Doesn't include a footswitch
Solid-state power section
---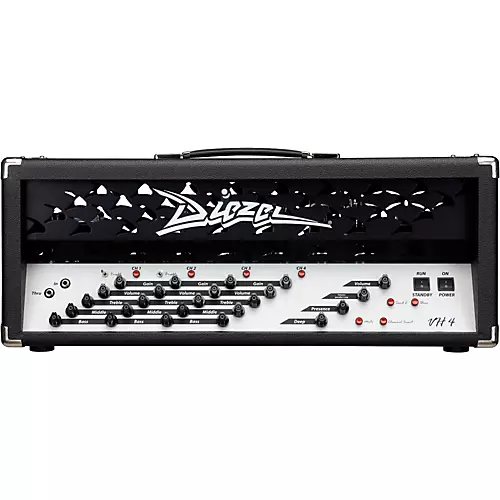 100 all-tube watts
Four independent footswitchable channels
Independent EQ for each channel
Onboard storage for presets
After years of being disappointed by the amps available on the market, Peter Diezel started building his own, and the rest is rock history. Diezel amps are considered some of the best boutique tube amps on the market, and the VH4 is their flagship amplifier.
The VH4 is a 100-watt tube amplifier that boasts four channels with independent EQ and volume controls for each channel. There are also master controls for depth, presence, brightness, and master volume.
The clean channel is one of the best in the biz, and it delivers warmth for days and a bell-like chime that seems to make any guitar sing. Two rhythm channels allow you to tailor different tones for your rhythm playing, and the lead channel allows you to slice through any mix with ease, no matter how dense it is.
The VH4 doesn't offer any gimmicky bells and whistles, onboard effects, or other sales tools. This amp is all killer, no filler, and it's the perfect choice for guitarists who want to let their tone do the talking for them.
Pros
Unparalleled saturation and harmonic resonance on dirty channels
Independent EQ and volume for each channel
Depth, presence, and brightness controls for tailoring an aggressive tone
Cons
---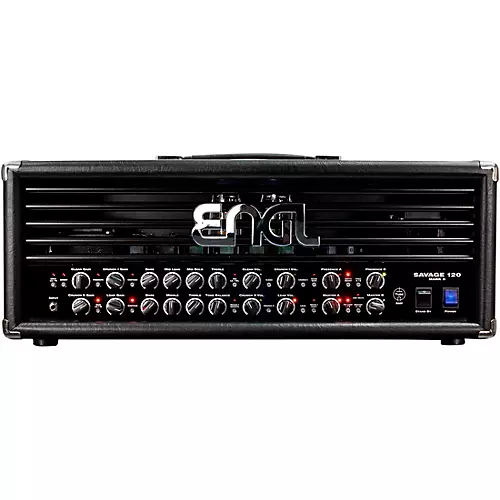 60 all-tube watts
Four independent footswitchable channels
Onboard noise gate
Full MIDI compatibility
For nearly 40 years, Engl has been making some of the best amps in the business from their factory in Germany. The Savage 60 Mark II is the culmination of all of their efforts, and it's truly a work of art.
This four-channel beast offers 60 watts, which is a bit smaller than the 100-watt headroom provided by most four-channel amps. With less headroom, you'll need to push this amp to its saturation point much more frequently to get the volume you need, and the result is a harmonic richness and character that you aren't going to get from a 100-watt head.
This amp delivers a clean channel, lead channel, and two crunch channels. From bell-like chime to classic 60s and 70s rock tones to a full complement of modern tones that could strip paint off the walls, the Mark II has it all.
The Savage 60 also offers switchable series or parallel effects loops, a built-in noise gate, serial amp control, and MIDI compatibility. These features are amazing in their own right, but they're merely a cherry on top for this amp. We can't overstate how lively, responsive, and nuanced the Savage 60 Mark II is, and we highly recommend playing one before you pick your next amp.
Pros
Unparalleled tone from all four channels
Onboard noise gate
Dual series/parallel effects loops
Cons
Doesn't include a footswitch
---
50 watts of all-tube power
Interchangeable preamp modules
Full MIDI compatibility
Onboard effects loop
Are you looking for one of the most innovative and versatile amps on the market? Look no further than the SYN-50 from Synergy, which can morph into practically anything you want it to with its unique modular design.
The Synergy platform is a smartly designed modular system that allows you to drop a variety of preamp modules into an all-tube 50-watt power amp. Players can choose from preamps from heavyweights like Diezel, Bogner, Friedman, Fryette, and many more. Say you want to go from the bell-like sparkle of an AC30 to the unmitigated fury of the Bogner Uberschall; it's all possible with the SYN-50.
The amplifier housing provides a 50-watt power section with two 6L6s and slots for two different modules. A four-button footswitch is also included, and you can control the SYN-50 with almost any MIDI controller.
Pros
Modular system allows you to swap between more than a dozen different preamps
Solid-state flexibility with all-tube power and response
Includes footswitch
Cons
Additional modules can get pricey
No Reverb
---
Four-Channel Amp Buying Guide
Whether you're shopping for your first amplifier or you're looking to round out your already impressive collection with a 4-channel powerhouse, there are plenty of factors to consider before pulling the trigger. Here's what you'll want to look for.
Tube vs. Solid State
This debate has raged since the first solid-state amps were introduced around 50 years ago.
Tube amps provide an unbeatable warmth and tonal character that's virtually impossible to replicate. But, they're heavy, and they require occasional maintenance and upkeep. You can expect to replace the tubes every two years or so, at a cost of well over $100.
Solid-state amps are lighter, considerably less expensive, and require virtually no maintenance. But, most solid-state amps lack the musicality or tonal character of a tube amplifier. Today's solid-state amps do a much better job at replicating the nuances of a tube circuit, but discerning ears can quickly tell if an amp is tube or solid-state.
If you're looking for a more affordable option that you'll never have to worry about servicing, solid-state could be for you. Or, if you're not willing to make any compromises on your tone, a tube amp is probably best for you.
Portability
How portable you need your amp to be is another important concern you'll want to address. Most amplifiers large enough for live performance are quite heavy, especially if they're tube amps.
Combo amps tend to be a bit more compact and easier to move around, especially if they have wheels. An amp head and cabinet are the choice for most rock and metal guitarists, but the speaker cabinet can be cumbersome and difficult to move without help.
Often, portability comes at the price of headroom. Smaller amps are inherently more portable, but a tiny combo might not have the headroom you need to cut through the mix with a full band.
Headroom
The wattage of an amplifier is a major consideration, especially if you're obsessed with finding the holy grail of tone. Many guitarists wrongfully assume that bigger is always better. But, that isn't always the case.
If you're shopping for a tube amp, check out some lower wattage options before immediately looking for a 100-watt model. An amp with 50-watts should be able to deliver the volume you need with no problem. But, you'll be pushing the power amp harder, which leads to more saturation, harmonic overtones, and character from the amp.
Tone Shaping
If you weren't serious about achieving the best tones possible, you wouldn't be in the market for a 4-channel amp in the first place. But, many manufacturers round some corners when developing their amps, like having two or more of the channels share EQ sections. This configuration is more akin to a two-channel amp with a switchable boost on each channel than to a genuine 4-channel amplifier.
If you want to be able to achieve a distinctly unique tone with each channel, look for an amp that provides independent EQ stages for each channel.
Beyond your typical 3-band EQ, it can also be helpful if the amp has additional equalization controls such as depth, presence, or brightness. These controls typically work at the master level, but they can provide much more depth and versatility when you're shaping your sound.
Bells & Whistles
When it comes to amps, most guitarists fall into one of two groups. You either want a simple amp that lets your playing and any pedals you might run in front of the amp do the talking for you, or you want an amp that delivers onboard effects, noise suppression, and more built into the amp.
You'll find plenty of excellent 4-channel amps on either side of the aisle. Even if you're not typically a bells and whistles type of player, features like an effects loop and onboard reverb or noise suppression may still be attractive to you.
Final Verdict
Every amp on our list is an absolute powerhouse in its own right, and you may find that one of the other five above is the perfect amp for you. But, considering all that it brings to the table and the intuitive features it offers to today's guitar player, the Engl Savage 60 Mark II is our choice as the best 4-channel guitar amp.
This amp delivers unparalleled versatility, thanks to its four independent channels, dual effects loops, and built-in noise gate. At 60 watts, it's also the easiest amp on our list to drive, which unlocks a new world of saturation and harmonic overtones to your tone. Take a closer look at the Engl Savage 60 Mark II today.