While playing guitar can feel freeing, the weight of equipment can tend to drag you down. Have you ever wanted to rock out by a lake or take your music to the streets?
Well, it turns out, you can. Battery-operated amps are lightweight and cable-free, defeating the need for outlets and stationary performances.
In order to find the best battery powered guitar amp I've probably looked at every amp on the market, and I can say with confidence that these are the seven best. I've broken down every choice by looking at each amp's strengths and what they are best suited to.
I've ordered the list as follows:
Best Overall
Runner Up
Best Budget
Most Portable
Best for Busking
Best Value
Most Customizable
If any of those are striking your fancy, then it's time to stop twiddling your guitar pick and start reading about the best battery-powered amp.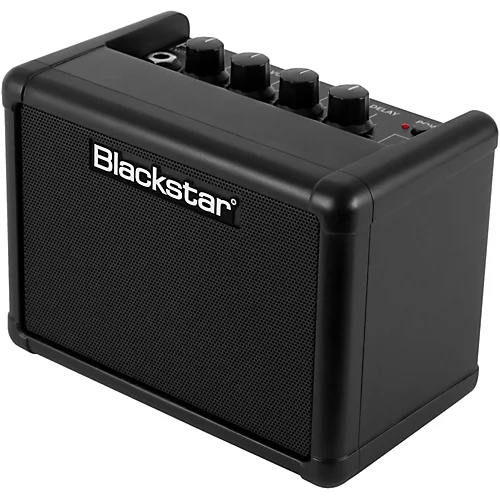 If you want the single best battery-powered guitar amp, then look no further than the Blackstar FLY 3 Mini. This amp has amazing tonal quality, fantastic sound, and plenty of customizable options.
For an amp measuring 17.5cm x 13.6cm x 10.7cm and weighing just 1kg, the Blackstar FLY 3 produces a big sound. While it may not be as loud as a proper full-sized amp, it's pretty darn close.
The Blackstar FLY 3 boasts emulated tape delay, onboard overdrive, and ISF tone control. There are dials for volume, delay, gain, and EQ, as well.
With only 3w and a three-inch speaker, this amp makes a big sound. Even more impressively, it has a deep, rich tonal quality that produces a clear, clean sound. While other tiny amps may start to sound fuzzy at the highest volume, this one does not.
Additionally, the amp has an AUX input and speaker simulation so you can play along with your favorite songs. It also has a headphone input and recording output.
Another shining feature of this amp is the materials and build quality. It is sturdy and designed like a full-sized amp rather than a cheap toy. That said, it is better for home and small stage use than busking.
---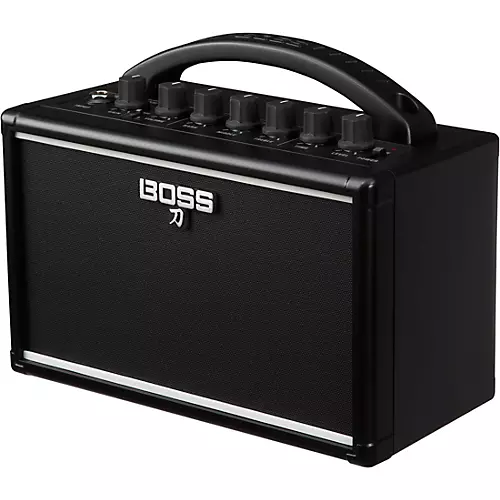 As with any small battery-powered amp, the volume the Boss Katana Mini produces will never quite match up to a full-sized, 100w amp. However, for only running at 4w and having a four-inch speaker, this amp produces clean and punchy sounds.
It has three sound types: brown, crunch, and clean. The multi-stage analog gain circuit allows the amp to be tailored to any style of play. There are also individual controls for volume, level delay, time delay, gain, bass, treble, and middle.
Weighing a mere 1.2kg and measuring 23cm x 11.6cm x 18.1cm, this tiny portable amp can be taken anywhere. Don't let the size fool you, however; the tonal quality and clarity are on par with full-sized Boss Katana amps.
Some notable features of this amp include its impressive high gain sound, mid-gain, and delay effect. The only downside to this amp is that it cannot reach the same volumes as a larger one. Regardless, it is excellent for busking, studio play, or small venues.
The Boss Katana Mini is also equipped with an AUX input, headphone output, and recording output.
---
If you are looking for a simple amp with surprisingly good tonal quality for the cheapest price, the Marshall MS-2 is the right pick.
This amp is the smallest, lightest amp on this list and possibly on the market. It weighs 0.3kg and measures a minuscule 14cm x 11cm x 6cm.
While it may be small, the Marshall MS-2 has dials for volume and tone, clean and overdrive modes, and headphone output.
This is a 1w amp with a two-inch speaker, so it is not ideal for performances or loud environments but is ideal for people who want to practice at home. It is a good choice for people on a budget, beginners, and kids.
It can run on either a 9v battery or a 9v cable, but neither come with the amp. While it may not be terribly powerful or customizable, it is a good starter amp and budget option. It is reliable and extremely easy to transport.
---
If you are looking for the smallest, most portable amp, then this is the one. The Roland Micro Cube GX is 2.7kg and measures 22.7cm x 24.7cm x 17.2cm. It has a handle, carrying strap, and the outer shell is tough and resilient.
At only 3w and with a five-inch speaker, this amp packs a powerful punch that gives off crisp sounds with a deep tone. While the volume is nothing to write home about, its eight amp models and eight effects are. The modeling system is a high-fidelity COSM that can replicate the sounds and tone of bigger amps. There is also a JC120 model that provides a wide spacious sound that can fill up any quiet area and give proper depth to your sound.
If you want to take your guitar on a road trip or out camping, this amp acts as the perfect compliment. It is lightweight and has many variable options. The Micro Cube also has i-Cube capabilities, a memory function, and a built-in tuner.
Finally, this amp also offers reverb, effects processing, a line output, recording output, and headphone output.
---
Whether you are a singer-songwriter, a street hustler, or a busker extraordinaire, you need a solid amp with a long battery life that can hold up to harsher conditions. The Roland Mobile Cube is just the amp for the job.
This bitty 5w amp can produce some amazing sounds for its size. While the three models (clean, crunch, and lead) are fairly basic, they provide just the right sound for jazz, rock, and blues guitar. Additionally, there is an extra, separate model for acoustic that offers a more natural, deep sound.
The reverb and onboard chorus, and delay effects add an extra element of customization. More impressively, perhaps, is the amp's two XLR inputs with individual EQ so that you can amp up a guitar and a microphone. On top of that, there is a line input for a keyboard and an additional quarter and eighth-inch inputs.
The amp weighs 2.5kg and measures just 28cm x 10.8cm x 17.7cm. It has a four-inch speaker, comes with six AA batteries for 15 hours of play, and includes a handy carrying strap. You can also adjust the attenuators to prolong the battery life.
While this amp might not have as wide a tonal variety as other amps, it is the best for busking and multi-instrument setups.
---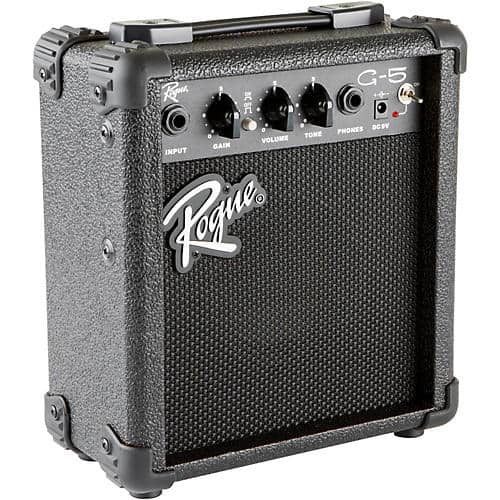 The Rogue G5 is one of the best battery powered guitar amps for the price. It is extremely affordable yet packs quite the punch. It's not lacking in features either.
This is a 5w amp with a four-inch speaker. It can run on 9v batteries or a 9v cable.
While it may be small, this amp has tons of fun features. There are controls for volume, gain, tone, and clean or overdrive modes. There is also a headphone input.
The Rogue G5 measures 25.4cm x 22.7cm x 11.3cm, making it one of the larger ones on this list, yet still light and portable. It is a good amp option for small venues and busking as the volume can go quite high.
---
The NUX Mighty Lite BT Modeling Amp is a popular choice among musicians that like to vary their sound. With clean, overdrive, and distortion sound options, dials for volume, gain, and tone, and delay and reverb effects, this amp is already on par with most other portable mini amps.
Additionally, the Mighty Lite has nine preset drum patterns to play along to; rock, pop, blues, metal, funk, R&B, country, Latin, and ballad. It also has its own metronome. All the patterns and the metronome have tempo and delay options.
The Mighty Lite is also one of the few amps that have its own app. The app lets you control several advanced features through Bluetooth. There is also an AUX input, headphone output, and it can be run on batteries, a 9v cable, or USB.
At 3w, 0.7kg, and 16.6cm x 9.8cm x 12.4cm, it is the second lightest and smallest amp on this list. The speaker is three inches, and while the sound is not as high-fidelity as some other speakers, the size, weight, and customizable options more than make up for that.
---
Buying Guide
While all the amps listed above are top-of-the-line products made by beloved companies, they have many differences. If you are prioritizing volume over customizability or vice versa, you will need to buy a different amp.
To help you decide, let's go over some of the key aspects that everyone should watch out for when buying a battery-powered amp.
Tone
Perhaps the most important aspect of any amp is how it sounds. Does it produce a clear, bold sound or a crackly, wispy sound?
If the amp is making your instrument sound worse, then there's no point in using it. It's a bit like putting your phone volume to full; at some point, the speaker can't handle it, and the sound becomes tinny and choppy.
Generally, smaller speakers do not have as clear a sound as larger ones, but some are near matches. If you're going to be using a mini amp, make sure it has a good speaker with a clear tone.
Volume
Another problem many mini amps face is volume. The physical size of a speaker dictates how loud it can be, so if you are using a one-inch speaker, it will never be as loud as a ten-inch one.
Depending on what you plan to use the amp for, the volume may not be too much of an issue, but if you plan to perform it is a huge concern.
Customizability/Controls
The more options a speaker has for modes, tones, gain, treble, delay, etc., then the more variety of sounds you will be able to get. If you use a basic guitar and play exclusively one genre of music, this isn't as big of an issue, but generally, more dials mean more options.
After all, variety is the spice of life, and customizability is the spice of amps.
Size
Not only does size affect the sound and tonal quality, but it also dictates how portable the amp is. Chances are if you are looking for a battery-powered amp that you need to be able to move it around. If the amp is too large or heavy, it may end up becoming a permanent fixture in one spot.
Battery Life
As much as battery technology has improved over the years, producing sound takes a lot of energy. If you are using the amp at max volume at all times, the battery will run down much faster.
That said, not all amps are created equally, and some may have much longer or shorter battery lives. Look for one that can at least last the duration of a performance.
Our Choice
If you are looking for the best battery-powered amp, then without a doubt, you will want to go with the Blackstar FLY 3 Mini Amp. This amp has the best of everything and performs much like a full-sized amp. The tonal quality is amazing, and the volume is impressive. There are plenty of ways to tweak the sound to your liking, too.
Whether you are a busker, bar band regular, garage rocker, or greener than the grass, a good amp goes a long way. Having the ability to bust out into song anywhere can feel like a superpower with the right amp.