If you want a top-notch amp to bring your bluesy guitar music to the next level, you've come to the right place. Not all amplifiers are created equally, and different products suit certain genres better than others. 
I tested over a dozen products and found the Fender Blues Deluxe Reissue Combo Amp to be the best guitar amp for blues music.
I have a soft spot in my heart, and my ears, for the comforting tones of classic blues music. But not every amp can deliver these wondrous sounds in a clean but tender manner. So finding that best blues amp has been both fun and meaningful.
Most musicians know that the best way to find a stellar amp is to roam around music shops and test them out. I did this for you and compiled a list of my five favorite amplifiers for the beautiful blues.
After many trips to music stores and many blues songs, I'm excited to report that my top pick is the Fender Blues Deluxe Reissue 40W 1×12″ Combo Amp. The features on this amp are superb and fun, always delivering an unparalleled clear sound with stunning reverb to add depth to your music.
Keep reading for more details about my five picks and whether or not they may be the right amp for you and your bluesy tunes.
Guitar Amp Mini-Reviews
Below are mini-reviews of the five amps I deemed best for blues music. You can check out the features, pros, cons, and general thoughts on these bad boys.
The Fender Blues Deluxe Reissue is an amp designed for silky smooth blues music. It offers superb channel switching and reverb. Blues guitarists, me included, adore the warm tone, vintage elegance, and unique wiring of this classic amplifier.
I found this amplifier incredibly intuitive and easy to use, making it a stellar choice for all blues guitarists, from newbies to seasoned players. While 40W amps are nothing to belittle, I was pleasantly surprised by the powerful sound and loud volume this amp delivered.
It also transitions well between soft blues sounds and vibrant jazz. There was little to no distortion, even on high volume. In my opinion, this amp pairs beautifully with the Fender Strat Telecaster or Fender Stratocaster.
Features
All-tube power amp and preamp
40W of power
12″ special-design Eminence speaker
Dual selectable channels: Normal and Drive
Independent Gain and Master controls for the Drive channel
Strong reverb and effects loop
Control options: Presence, Reverb, Master, Middle, Bass, Treble, Drive select switch, Drive, Volume, Bright, Standby
Genuine tweed covering and chrome panel
Vintage chicken-head knobs
Tube Compatibility: three 12AX7, two 6L6, SS rectifier
Includes footswitch
Pros
Decent power output
Excellent sound
Warm and comfy tones
Moderately portable
Intuitive controls
Gorgeous vintage appearance
Cons
Too bulky for some
Sensitive clean channel volume pot
Tweed covering is not waterproof
---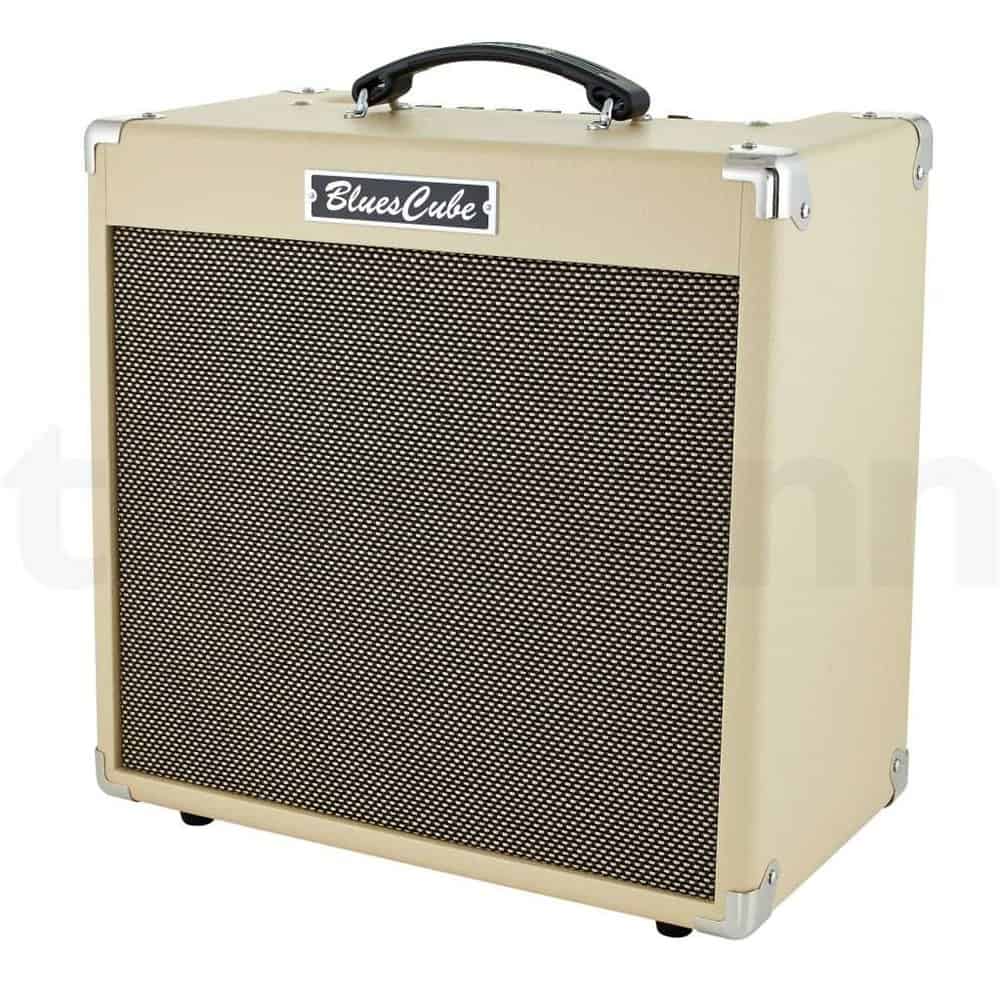 For the blues guitarist on the go, this is my number one pick. Unlike most amps that weigh over fifty pounds, the Roland Blues Cube clocks in at just 27 pounds, making it easy to transport.
While this amp is flawless for blues players, it doesn't offer a wide range of tones. If you enjoy exploring other genres with your guitar, I recommend one of the Fender options with more versatility. The low wattage results in moderate volume, so it's hard to produce clean rock sounds or other overdriven music.
Many blues guitarists say they can even use the amp without any pedals, as it offers a sublime bluesy tone all on its own. If you like to recreate sounds similar to Beth Rowley or Eric Bibb, you'll be head over heels for this compact amplifier.
Features
30W power
Custom 12″ speaker
Single Channel
Master volume
3-Band EQ
Built-in reverb
Boost and tone switchable by foot
Footswitch input: 6.3 mm stereo jack
4-way power control (0.5 W, 5 W, 15 W, Max)
Allows full tube tone at any volume
Open back design and genuine poplar wood
USB output and headphone output
Line out
Less than 30 pounds
Pros
Lightweight and portable
Excellent headphone and recording capabilities
Superb sound and reverb
Can operate alone
Affordable
Low maintenance
Power attenuator
Cons
Some people don't like digital amps
Better with a footswitch 
---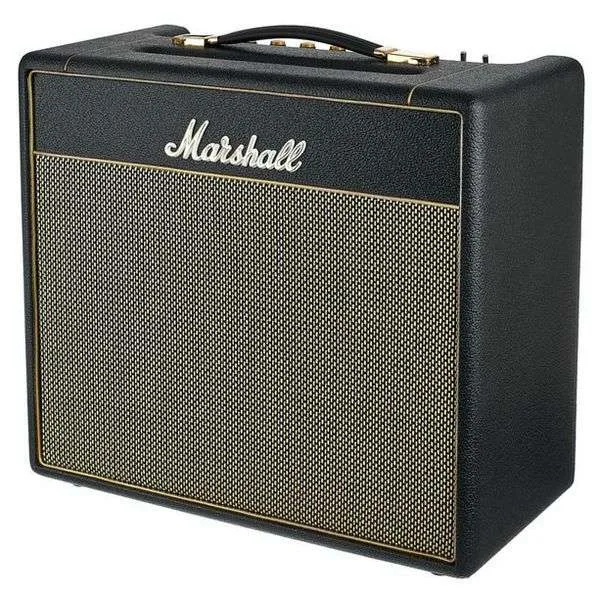 The Marshall Studio Vintage amp is more powerful than it sounds. Despite only using 20W of power, it has a super loud sound, making it challenging to use in your bedroom or living room. The amp works best for outdoor or garage playing and is fabulous for smaller performances.
For me, the biggest disappointment with this amp was the lack of reverb, which I appreciate in blues music. Because the amp is so loud and lacks reverb, the sound can sometimes come out unbalanced, but only with certain guitars at particular volumes. I enjoy the dynamic that reverb brings to blues music, but some prefer the cleaner, flat sound that comes without reverb.
The construction is top-notch, so the amp should last decades, if not a lifetime. But it can be a pain to carry, weighing over 40 pounds. Overall, this is one of the best amps for strong bluesy sounds mixed with rock and roll tones.
Features
Preamp design based on the traditional 1959 SLP
1 Channel with 4 separate inputs
5W to 20W power with reduction options
Has a 10″ Celestion V-Type Speaker
Tube Compatibility: 2x ECC83, 1x ECC83 (Phase Splitter), 2x EL34
Controls: Treble, Midtones, Basses, and Presence
DI out
Serial FX loop
Pros
Affordable
Versatile sound
High treble options
You can blend multiple inputs
Loud volume
Beautiful sound
Low and high sensitivity inputs
Vintage tone
Cons
No headphone connection
No reverb
Not suitable for quiet, indoor use
---
Moving back to Fender amps, this Champion 20 Guitar Combo amp is a respectable choice for blues guitarists. This amp is hands down my top recommendation for guitarists shopping on a budget, as it's a fraction of what the other amps on this list cost.
Due to the low price, this amp lacks many of the fancy features of the amps listed above. But it has beautiful reverb and a steady, clean sound that delivers the warm bluesy tones you want. Unlike the Marshall Studio Vintage, this amp is ideal for bedroom blues.
It has a subdued sound that won't drive your neighbors or parents up the wall. It also has a compact and lightweight design, so you can store it in small spaces easily. It only weighs 12 pounds! The sound is superb, although I did notice it break up or skip every so often. But for the price, you get a high-end amp compatible with bluesy music.
Features
20W power
8 Fender Special Design speaker
Single channel and single input
Reverb, delay/echo, chorus, tremolo, Vibratone, and other effects
Different amp voicings
Different distortion types
Controls: Channel 1: Volume, Channel 2: Gain, Volume, Voice. Master: Treble, Bass, FX Level, FX Select, TAP
⅛' auxiliary input and headphone output jacks
Pros
Best for people on a budget
Easy to use
High-quality sound
Warm and cozy tone
Decent power output
Super portable and lightweight
Cons
Weaker volume
Limited functions
---
The Supro Keeley amp's functions are great, but first, let's talk about the stylish look. It may be superficial, but tons of blues guitarists love this amp's blue exterior with white piping, giving it an elegant and classic appearance.
While Supro claims several features, like an FX loop and returns inputs, these functions work poorly and break up the sound. This was disappointing, but as someone who doesn't use loops often, it wasn't a deal breaker. The basic functions you require from an amp all work well.
The Supro Keeley Custom 12 can deliver tender but crisp blues sounds, but it can also work for rock and roll or jazz. The first three amps on this list are ideal for blues, while the last two have a wider range of sound characteristics for well-rounded guitarists.
Features
25W power
Has a 1x 12″ Celestion G12M-65 speaker
Controls: Volume, Treble, Bass, Master
FX loop effects
Preamp tubes: 2x ECC83S
Power amp tubes: 2x 6V6GT
Single input jack
FX-Loop send and return inputs
Blue Rhino cover with white piping
Pros
Clean sound
Gorgeous appearance
Works well with most guitars
Works well with all petals
Flexible tones
Beautiful treble and base
Cons
Finicky features
Poor FX loop
Expensive for quality
No reverb
---
Buying Guide
Buying a new amp can be daunting, as there are many features to consider and brands to browse. To help you find the ideal amp for you and your bluesy music, follow this buying guide!
Brand
Different brands use various circuitry designs and power outputs, so not every brand will satisfy every guitarist. If you have used certain brands previously, consider what you liked and disliked about them and go from there.
Some people find the sound of Fenders to be too muted, while others prefer a gentle sound that isn't too sharp. Play around with different brands and ask fellow guitarists what they prefer, as this can help you find your favorite brand.
Combo vs. Stack
There are two types of amps you can buy: combos or stacks. Stacks are much bigger and best for performances, as they take up a decent amount of space and are bulkier.
All the amps on this review list are combos, as blues music can flow smoothly from the combo amps, and they're easier to transport and set up. Stacks have a head and separate speaker, offering the versatility you simply can't achieve with combo amps.
But the general consistency of blues music makes combos a suitable option. If you play multiple genres, you may want to consider a stack with more tonal flexibility.
Volume
This consideration is obvious as amps help you amplify your music. An amp with low volume may not suffice.
If you play alone in your garage, you likely don't need a high-volume amp, but if you plan to utilize this amp for performances or along with other instruments, you need to ensure you have enough power.
The blues genre can use lower volume amps due to the smooth nature of the music, but rock music requires a more powerful amp, otherwise, the sound may break up.
Guitar
Not all guitars will sound wonderful with different amps, so you must choose an amp that functions well with your entire setup. Consider your guitar's sound and tone, as well as your pedals.
Pairing your guitar with the perfect amp can be a long and challenging journey. The guitar amp is just one component that comprises the final sound, so one guitar may achieve the sound you want with a certain amp, while another guitar sounds different.
This discussion warrants an entire article in itself, but the best way to find the perfect match to achieve your desired sound is to test out amps in-store and read reviews concerning your specific guitar.
Sound Goals
Not every blues guitaristic has the same sound in mind, so you need to consider the tonal characteristics you want to aim for.
Do you enjoy the softer, smoother American blues, or want something heavier and more overdriven in tone?
That isn't to say an amp can only accomplish one sound, as they do have some tonal flexibility. But a decent way to determine which amp will deliver your desired sound is to find out what your inspirations used.
If you want to mimic the sound of Stevie Ray Vaughan, research his amp preferences (American voiced Fender amp) and see if it works for you.
Conclusion
For musicians who want to create warm tones and classic blues sounds, I recommend the Fender Blues Deluxe Reissue. It has such a beautiful sound and pairs well with the blues. 
But most blues guitarists will be satisfied with any of the amps on this list, so it comes down to your personal preferences and playing style.
If blues is your preferred medicine you can also check out our review 7 Best Guitars For Blues.