Finding the best combo amp for metal music can be challenging. There are so many amps on the market today that would appeal to metal players, it's easy to get lost.
Thankfully, I tested seven combo amps and found the Laney Ironheart All-Tube Combo amp to be the best overall amp for metal players and the Orange Micro Dark to be a great budget-friendly alternative to save you time. Even though I dabble in many different styles of music, I've always had a strong leaning towards metal.
Using the right combo amp can give you the power and the sound quality you want for metal, with a high gain, high sustain sound ensuring you will sound precisely how you want.
Read on for all the amps I tested to see if you agree with my top picks!
Weight: 6.8 kg
Wattage: 5 watts
Tubes: 1 12AX7
Channels: 2 channels with two voices per channel
Footswitch: Yes
Playing metal doesn't require the biggest and baddest looking amp. Too much can detract from your playing and be distracting. After all, you want people looking at you and your guitar.
The Blackstar HT-5RH will keep the focus where it should be with a classic, short, and understated design, complete with EQ knobs and hidden input and output jacks. It's a clever and reliable combo amp, able to accompany you whether you're practicing or recording and provide the force you need without blowing everyone's eardrums.
Plus, it's a fantastic apartment amp. With the ability to knock the power back to 0.5 watts without sacrificing the crunch or clarity of the tone, you won't have to worry about the neighbors plotting to have you evicted.
The clean channel sound you get from this Blackstar model is impressive, especially since the drive channel offers a selection of distorted textures for more variety. So whether you favor an all-American punchy metal sound or a more edgy British grit, this amp can deliver it all. 
Pros:
Small and lightweight
Clean and overdrive voicings
Studio-quality reverb
Push-pull power design
Cons:
It may be out of beginner players budget
Not powerful enough for gigging
---
Weight: 20.5 kg
Wattage: 30 watts
Tubes: four 12AX7
Channels: 3 channels: clean, rhythm, and lead
Footswitchable: Yes
The Laney Ironheart is an absolute beast of an amp that you can take with you to gigs and recording sessions, even if it is much heavier than other amps on this list. It has really powerful output and it comes with independent 3-band EQ and studio-quality digital reverb. Those are just some of the reasons it's our top pick.
This is tube amplification at it's best, with a clear aim at metal and high gain output. There is just no other way to put it. The dynamic range of sound this monster will produce is quite astonishing, and even when in the high gain settings on the lead channel the sound is really saturated without fizz. And no distortion pedal required.
Tony Iommi of Black Sabbath has even used this British amp in earlier performances and later designed his own Laney amp, giving it even more credence as a great fit for metal players. It's slightly on the pricier side, perhaps best suited for intermediate and experienced players, but it's because it's a powerful combo amp. And honestly, if blasting out dark and heavy riffs is your particular brand of fun you'll love the clarity in the bass and mids you get from this amp.  
While the Blackstar 5RH is an apartment amp, this one can be a bit too much for apartment living. However, you can cut back power to around 1 watt. To put it bluntly, this amp deserves a bit more room to deliver its full sound, whether that's in practice or playing live. 
Because the lead channel has individual EQ, musicians can dial into virtually any tone they wish, making sound tweaking simple and fun. And damn, this thing delivers a mean sound!
Pros:
Powerful and crisp sound
Gigging standard
Features cabinet emulation
The variety of EQ and FX makes it versatile
Cons:
Expensive
Not as portable as other amps
---
Weight: 20.4 kg
Wattage: 80 watts
Solid State
Channels: 3 channels with 2-3 voices on each
Footswitch: Yes
The first thing that will come to your attention with this combo amp is the channels. It starts with three channels (clean/rhythm/lead) that can become something else. It's like having six amps rolled into one casing!
The clean channel can be vintage/classic/warm, and the lead channel offers up Classic/modern/high gain with just a flip of a switch. This will appeal to both new and seasoned players alike because, in concert with all these options, this little amp offers up 80 watts of power in a portable format with a 12' Blue Marvel speaker.
Metal players will love it, although you may find it a bit too clean and have to add in an overdrive pedal to focus the distortion.
Getting great tone variations is easy and fun, and the clean channel has a nice warmth to it with great clarity, which can be ideal for some hardcore metal riffs provided you can can boost the signal with a great sounding distortion pedal. 
Pros:
Plenty of options for sound. It's like six amps in one
Affordable
Lots of power
Nice warm sound
Comes with a footswitch
Cons:
Weak distortion
A bit heavy
---
Weight: 13 kg
Wattage: 50 watts
Solid-state combo
100 different presets
Footswitch: No
Marshall has made a name for themselves, delivering that distortion-friendly, full British sound. This time around at an affordable price with plenty of options. It's portable too at just 13 kg with smaller dimensions that will easily fit in the car for drives to practice.
The Code50 is unlike any other combo amp on this list and is perhaps the most versatile. It's a solid-state modeling guitar combo rather than a tube combo. It has many digital models, including 14 preamp models, four power-amp models, and eight-speaker cab models, meaning that there is something for everyone. 
There may be too many options for the player just finding their feet, though, so purchase with caution to avoid decision burnout. The amp also has Bluetooth iOS and Android integration, so it's also the only amp on this list that you can control with a remote control which is great since it doesn't work with a footswitch.
The overall sound of this amp is actually quite good and balanced, and never gets muddy or weak when you start tweaking the sound. Which brings me to the fact that the presets require a bit of tweaking, and many seasoned musicians may find that annoying in their pursuit of that harsh, edgy metal sound. Thankfully, this Marshall model has customizable options so you can find the sound you want with a bit of patience. With a little time and some research, you can store your favorite presets as you wish. 
Pros:
Portable
Budget-friendly
Customizable with over 100 presets
Bluetooth remote control
Cons:
It lacks power for some players
Too many models and presets may confuse beginners
---
Weight: 33 kg
Wattage: 150 watts
Solid-state
Channels: 3 channels with one voice on each
Footswitch: Yes
The Randall RG1503 212 is a heavy and powerful amp. Full stop! Hauling it around is cumbersome, no doubt, but this amp is just as well suited for gigging as it is for recording. An external speaker on the back and internal springs for proper reverb no doubt add to the weight, but they are welcome additions for added clarity.
And soundwise? Wow, it'll rock your socks off! I mean it's 150 watts, so it's almost ridiculously loud, and it sounds insane. Very saturated, mean and dark, but never losing it's clarity. If you're a metal head, finding a great tone on this bad boy will be a sheer delight. With so much power, it works of course well in a band with a hard-hitting drummer, both on stage as well as in rehearsal, but equally well at home with headphones. It probably won't make your neighbors fans of your shredding, though, so it's best to find a great pair of headphones.
The sound you get from the clean channel is unparalleled to other models, and with the touch of a button, you can turn up the brightness when you want. The high gain settings will give you loads of output options to play around with, but I think that is to expected for metal amps in this price range. 
While it may be out of many people's budgets, the Randall RG1503 has plenty of features to show value for money. In addition to three channels that include clean, gain and gain 2, it also boasts a four-band EQ, spring-based reverb, and plenty of speaker options.
My only beef after this test run is the weight, and the fact that I tend to favour tube amps.
Pros:
Powerful
Real spring-reverb
Plenty of EQ features
External speakers on front and back
Cons:
Heavy
It could be out of some people's budgets
---
Weight: 1 kg
Wattage: 20 watts
Tubes: One 12AX7
Channels: CabSim circuitry
Footswitchable: Yes
This could be the ultimate practice amp for both beginners and experienced players. It's small and lightweight with a carrying handle, but it does it all without sacrificing tones or flexibility.
The Orange Micro Dark combo amp uses CabSim (cabinet simulation) technology to make this little amp sound like a fully mic'd 4×12″ cabinet complete with their Voice of the World speakers. The Micro Dark will probably never be a gigging amp on its own, but it's compatible with larger rigs and cabinets, so buying the Micro Dark isn't putting money into just a practice setup.
You can plug in headphones to play silently or output to a mixing board. It's a reasonable price with EQ controls being just the fundamental: shape, gain, and volume, but that should be enough for someone running through songs in their home or studio.
This Micro Dark amp dials into distortion extremely well with a boost pedal, giving a moderately clean tone. When using the fx loop, there is a buffer to prevent any tone loss. It doesn't clean up all that well, and for you to get a truly clean tone, the gain and volume need to be low. But who cares, right?
If you've never played an Orange amp before you'll probably be surprised at the metal tone this little fella is capable of. Those of you familiar with Orange products, probably not surprised at all to find this little thing on a list like this.
Pros:
Budget-friendly
Highly portable
Emulates a much larger cabinet
Use headphones or port to a mixing board
Cons:
Limited power
Works better with a bigger setup than alone
---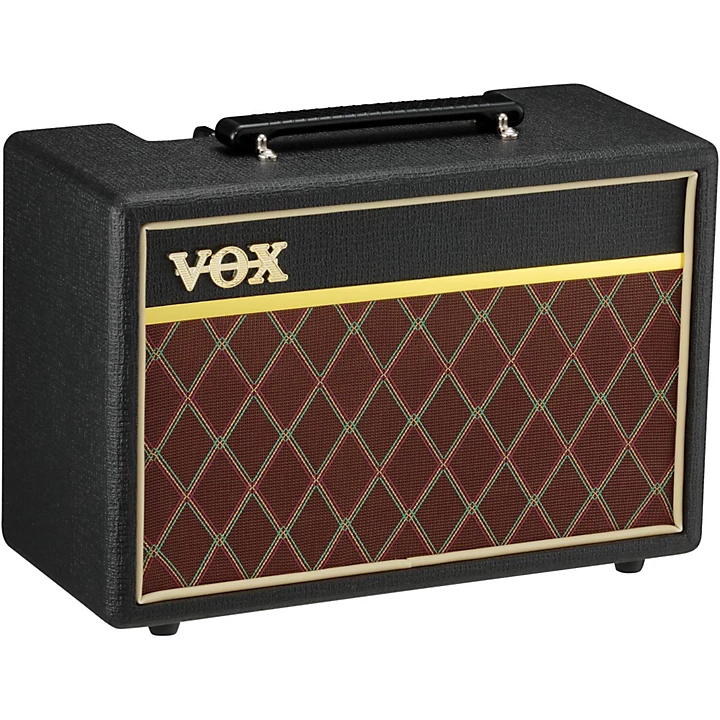 Weight: 4.5 kg
Wattage: 10 watts
Solid-state
Channels: Two channels
Footswitchable: No
Many of you might already wonder why there is a little VOX amp on metal amp list, and I don't blame you. But as great as large amps are for sound and power, small practice amps can keep you playing between gigs and before recording sessions. The Vox Pathfinder is a great little practice amp and would make a wonderful present for a new guitar player.
It uses a single 6.5" Vox Bulldog speaker, plenty for a house or apartment, and has the necessary controls to get someone started: 2-band EQ, gain, and volume knobs. Simple setup, I know, and no reverb. But, you won't be disappointed with this amp, rather you will likely be surprised with the punchy low end it produces.
The tone is clear, which is a characteristic of Vox products, with some warmth that often isn't present in a solid-state amp. If you want a more crisp and punchy sound, the overdrive channel provides outstanding results, although it can get very loud. It is surprisingly easy to achieve the distortion you want at low volume, making it perfect for apartment setting practices. 
And this amp takes pedals really well, so with a nice sounding distortion pedal you actually get great metal tones, ideal for recording. Took us by surprise, for sure, but also looking at the price tag it just had to make this list.
The only real downside is that the headphone jack is ¼" instead of the more common 3.5 mm that many personal headphones use. However, this is just one issue that purchasing an adaptor will solve.
Pros:
Portable
Budget-friendly
Warm sound even without tubes
Great for a practice amp and beginners
Cons:
Not enough power for gigging or recording
Lack of additional features like presets
---
Combo Amps for Metal Players Buying Guide
With so many combo amps available, choosing one that works for metal and fits your lifestyle doesn't need to be complicated. The key is identifying what you need in an amp and then finding one that suits your playing style.
Portability
A practice amp should be portable, lightweight, and not take up too much room in your car. The easier it is to move your amp to where you want to practice, the more likely you will practice.
If the amp is too large or must be kept in another area you don't play in, it may dissuade you from dragging it out or lugging it to the car to go to band practice.
Smaller amps suitable for practice will often have a lower wattage, which means lower power. Alternatively, lower wattage can make it easier to use in various environments, such as an apartment or smaller recording space.
Features
Physical features can make or break whether an amp is appealing and may be as simple as:
A headphone jack
Output jacks for your desired format
Remote controls or footswitching
Carrying strap or handle
For electronics, a good combo amp for a metal player will have plenty of gain, the capacity to produce a good bass level, and overall good clean sound with crunch. Working with pedals and having presets can be beneficial for some, but newer players should try not to get too caught up in all the extras until they figure out their sound.
Regarding extras, tweakers that allow EQ overlay or channel-switching are great, and a few combo amps even have presets that mimic the levels needed for good metal sound, although these often come with a higher price tag.
Make a list of what you need in a combo amp before shopping to help narrow down the list to the brands you like the look of and the size of amp that you realistically need.
Budget
Portable practice amps will usually be on the lower end while gigging quality amps with a higher wattage tend to be higher. Even gigging quality shouldn't be too expensive though, after all, one of the benefits of a combo amp over a half-stack rig is the lower cost.
Brand names will influence the price, although you can find used amps from expensive brands if you're unsure whether they are the brand for you.
Those brands from outside North America like Laney and Marshall coming from the UK may also be more expensive or difficult to find due to the need to import them into the United States.
Striking a balance between budget and features may be the most challenging part of finding a good combo amp but walking into a store and trying out different amps before purchase is still one of the best ways to determine a favorite.
Practicing, Recording, or Gigging?
As a general rule of thumb, gigging amps will be a higher wattage than more portable practice amps and generally cost more. Depending on your setup, you may even keep your gigging gear in a separate location to avoid having to bring it back and forth, so portability may be less of an issue.
Recording amps can be a lower or higher wattage but are often smaller without issues because they're outputting into a digital format rather than relying on speakers to carry the sound, which is where most of the size and weight comes in.
Thanks to a smaller size, recording amps don't have to be that expensive or fancy, especially for beginners. They just need to have the features you want and a sound that you're happy with before going into the studio.
An amp that starts with a lower wattage and can attenuate down even lower can be a blessing for apartment practice, small rehearsal studios, and recording.
New Players
It will be tempting to buy the most powerful amp you can afford and then turn it up to eleven. There is something to be said for restraint. A good combo amp will have a warmer and more organic sound that can benefit from mid-volume or headphone playing to appreciate all the levels.
Pick extra features carefully and ask yourself if you need seven different EQ knobs when you prefer to play with pedals or only care about reverb.
Reducing the features and focusing on a higher quality brand that does one or two things very well can allow someone who has just begun to play to hear where they're making mistakes and help them to fix them.
Final Thoughts
There is a combo amp for every metal player out there, but one cannot satisfy everyone. Your budget will be a deciding factor, as will what you want to use it for.
That's why we recommend the Laney Ironheart All-Tube as a recording or gigging amp but also the Orange Micro Dark as a budget-friendly alternative and for a practice amp.
Check out either option using the links above and see for yourself what a combo amp can do for your metal playing.