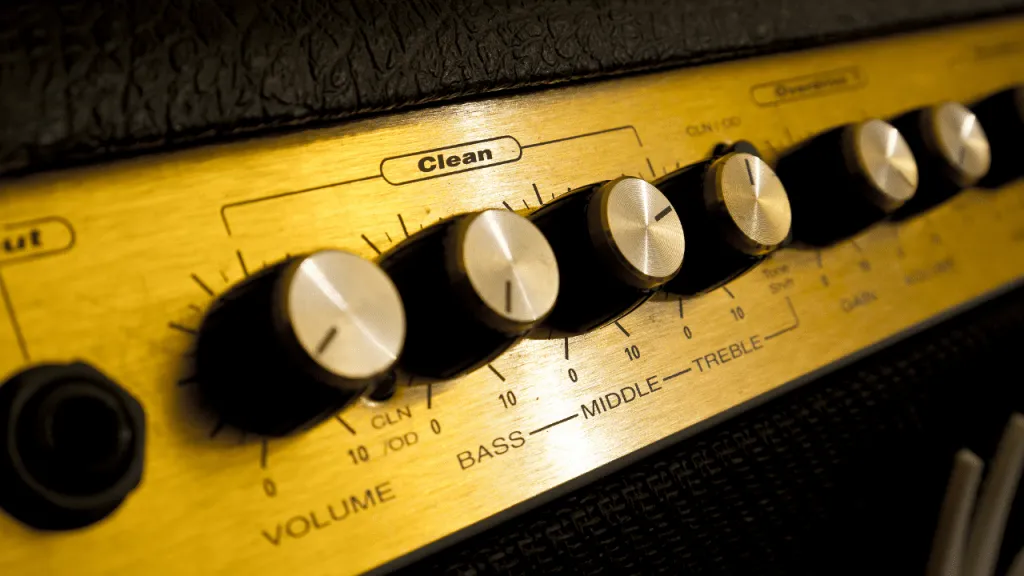 Trying new amplifiers never gets boring, and the team here at All Guitar Stuff are always on the lookout for great sounding amps. This time for the best small tube amp. In my opinion a great small tube amp should not only sound good but also have a great dynamic range, ease of use and obviously not be too big. Cool extra features are of course a plus.
It was very difficult to agree on a winner, but in the end we found the Orange Rocker 15 to be the one we all wanted to keep, all things considered.
Now, every guitarist is different, so I've compiled a list of the brands and models that I found to be totally awesome tube amps for home use.
Let's get started!
FEATURES
Celestion 12″ A-Type speaker
Preamp circuit modified for increased fullness
Spring reverb modified for improved smoothness
Includes 1-button footswitch for fat Mid boost
The Fender Blues Junior IV is a 15 Watt amp that's all black in color and outfitted with a Celestion 12-inch speaker. If you like using pedals, this puppy is for you. It's easy to plug them in, just reach over to the back of the amp and plug in and set. Even heavy duty distortion pedals sounded great. There are no configurations on the front, which gives it a classic but modern look. The volume dial on this model has been greatly improved over the last, and won't clip or change easily.
One issue that might be a little annoying is the size. It's pretty heavy to carry around. Be sure that you're okay with this if you play in different locations very often. And the handle is pretty weak, and looks like it may not serve you well in the long run. If you are ok with this, along with the fact that there's no carrying case with the amp, then the Blues Junior IV is a great amp.
And the tone? Absolutely beautiful! The clean sound is warm and creamy and going from distorted to more distorted is quite smooth. If I had a larger pedal board at my disposal (like my good friend does) I think I could be quite satisfied having this as my only amp. Only exception would be if I mainly played hardcore metal, then I might look around for something else.
Pros:
Sounds incredibly well with any pedal that's attached to it.
Improved volume dial doesn't cause sound disruptions, unlike previous editions.
Clean tones are clear and robust on both low and high-quality guitars.
Cons:
It's a little heavy for a small amp, and can be cumbersome to carry around.
The handle doesn't feel very sturdy and could possibly loosen from the bolts over time.
Doesn't include a carrying case.
---
FEATURES
15 Watt tube power amp with two 6V6 tubes and one 12AX7 preamp tube
10 inch Fender Special Design speaker
Voicing knob with 16 different amp types (Tweed, Blackface, British, Metal, etc.) and 15 effects with effects adjust control and a TAP tempo control for delay time/modulation rate adjustments
Two Channels with Channel Switching Format and optional footswitch
USB output for speaker-emulated digital recording
Another great little amp from Fender. The Fender Super Champ X2 is an amp for those that need something that won't get damaged easily. It looks and feels rugged and tough, like it was built to last. The amp's controls and dials feel tight and robust and should stay in great shape for a long time. There's even a USB stick in the rear of the amp, which you can plug into a computer or laptop for recording and additional sound manipulation. Go to Fender's website for more information about the software.
If you get annoyed easily over having to change the settings of your tube amp, this one might make you a tad bit frustrated. At least until you become adjusted to all the configurations. You should definitely update the firmware before you get started, since in all honesty the amp won't sound very well if you don't. If you can manage that, then you have a well built, durable and great sounding tube amp that sounds delicious at any volume. Lots of diverse sounds, and probably loud enough to bring to venues and band practice, makes this an amp to enjoy for a long time.
Pros:
Dials and other controls feel like they're built to last.
A USB slot in the back of the amp can connect to a laptop or pc, and so music can be equalized on the go.
Volume cap is loud enough to be heard over medium to heavy drumming.
The speaker can be hooked up to another source.
Cons:
Some fine-tuning is required upon initial use, which is a little annoying.
Doesn't sound good before using the USB.
---
FEATURES
12″ Celestion G12M Greenback
3 – 12AX7 preamp tubes 2 EL84s power tubes
Optional VFS2A Footswitch sold separately
I have never owned a VOX amp, and I haven't played that many to be honest, so this was very interesting.
It has that stunning retro look, and resembles a well preserved pearl from yesteryears. For a 15W amp it's definitely heavy, so if you're looking for portability you're in for a surprise. And the footswitch that controls the tremolo and reverb is sadly not included. Even though it's not a necessary part of the experience, we still feel it'd be nice to have.
Of course, the fun begins when you plug in your guitar. To put it mildly, this thing is loud! It has two channels, Normal and Top Boost, and it's definitely the latter that steals the attention, as it gives you control over EQ with Bass and Treble control knobs. It also has its own volume control knob. No Mid control though. It also has a master volume and tone cut, which cuts the top end as you crank it up.
And soundwise? Clean tones are great, and are quite bright. Overdriven tones with a bit of crunch works well too, so if you have classic rock and blues in mind you will feel right at home. The tone and volume knobs are very responsive and offer a nice range, and the natural overdrive of this amp delivers more sustain than you would expect. High gain styles, such as metal, is the achilles heel. If this is what you have in mind, make sure you have a decent distortion pedal at hand.
Pros:
Astonishing look and vintage design
Cons:
Although great for clean and crunch sounds, it doesn't handle high gain all that well. Best use a distortion pedal for that.
Very heavy and lacks the portability of a small amp.
---
FEATURES
Footswitchable Boost Mode
4, 8, and 16 Ohm Speaker Jacks
Mod-Friendly Eyelet-type Board
The forth one on the list was, I have to admit, a bit of a surprise. In my defense I must say I have never played on a VHT amp before, and so I wasn't sure it would compare well with others, but I was pleasantly surprised.
My initial impression of the build quality was very positive. It felt solid and the knobs and switches felt sturdy. Again, I wasn't expecting this due to ignorance and the fact that it is rather inexpensive.
I play mainly Les Pauls, but I also have an SA series Ibanez and a Charvel San Dimas (HSS configuration). On a more general note I would say the tone is a bit on the darker side of the spectrum, making humbucker pickups sound a little muddy. But, the tone knob is surprisingly functional and can brighten up the sound a lot. This definitely adds a great tonal range for whatever guitar you plug in.
The same accolades cannot be given to the 3 position texture switch. Maybe there was a secret setting we didn't try, but as far as we could tell it didn't do all that much. No distinct changes in tone to speak of.
The depth control knob can go from a nice fat bottom end to a sound with more presence and bite to it. You can spend a lot of time playing around with this feature, as you will discover there are cool tonal differences to experience.
And oh, did we mention this amp also comes with a foot-switch that can toggle the boost on and off? Well, it does.
There are also the Clean and Ultra inputs that you can play around with, which expands the already impressive tonal range. Needless to say, there are a ton of tones hidden in this amp and it will take a while to find all the useful ones. Expect therefore to spend a bit of time with it.
As far as sound goes this amp can do pretty much everything, and is suitable for most styles of music. Surprisingly well rounded and versatile, but not really over the top in any direction. Boring? Absolutely not. We love this thing!
Pros:
Cons:
Takes a bit of time to find the right tones
Texture switch feels unnecessary
---
FEATURES
15W (tube) Attenuation: 15W, 7W, 1W, .
Two channels Single input Speaker: 1×10 Voice of the World Gold Label
Controls: volume (channel 1); 3 band EQ, gain, bass, volume (channel 2); power switch Built in tube stereo/mono FX loop Basketweave vinyl
Dimensions: 18.5 inches x 16.14 inches x 10.24 inches Weight: 29.98 pounds
And so we come to the last amp on our list, and what a beauty it is! An absolute beast of a small amp, with enough power to serve you well on a gig. Small, but packs a bigger punch than expected.
We know this amp is on the more expensive side of things, but we also had to see what you can get your hands on, if your budget allows it.
The quality and build here is exactly what you would expect from this price range. Orange certainly doesn't disappoint, and every aspect of this amp is quality through and through.
It's very light weight and easy to transport, and is a testament to what a small tube amp can be in terms of going from your bedroom to rehearsing with your band. This puppy handles it all, as attenuation allows you to go from 1 W to 15 W with ease.
Not only does it look cool, it sounds pretty damn cool too! The Rocker 15's natural channel is a true joy in every aspect of the word, with sparkling clarity at lower volume which moves up to a thicker more 'pushed' tone from there. Great for rhythm.
Now, clean sounds are great, but it's with distortion and gain the Orange amps really shine. And the Rocker 15 is no exception. The Dirty channel has, as one could expect, a wide gain range that covers classic and modern tones with ease. Going from a mildly driven sound that's perfect for 70s rock, up to the distortion that's the hallmark for many of the heavier bands out there today is a breeze. The nice passive EQ controls let you dial in the right midrange to suit any guitar. And yes, distortion pedals work nicely with this amp should you feel the urge to go for more oomph.
Pros:
Cons
---
Best Small Tube Amp Buying Guide
There are a number of reasons why you might want to look for a small tube amp. Being a good neighbor, a considerate spouse or a reasonable roommate are all good reasons. Or perhaps you just want something lightweight that's easy to bring with you in case you're popping over to a friend for a quick jam session. There is also a reason why you might want to consider a tube amp over a solid state amp.
Tube Amp vs. Solid State – What's The Difference?
The simple answer is that a tube amp uses one or more vacuum tubes to amplify the signal, while a solid state amp uses electronics to do the same. The difference in sound is quite noticeable, even for the untrained ear.
Tubes give a warm and natural tone, with a deep distortion that works great for most rock and metal, and solid state amps just don't sound as natural.
However, they aren't perfect.The tubes need time to warm up so you can't play them right away after hitting the power button. Also, they get worn out and you'll need to replace them after a while. But for most of us, the sound is worth it.
Combo vs Head
A combo amplifier includes both a speaker and tubes to amplify the signal. A tube head needs to be combined with a cabinet (cab for short) in order to give you a full tone. A combo is definitely more convenient, especially for beginners – it's just a matter of plug in and go.
A combo also means you only have to buy one piece of equipment, which again makes it more convenient. So in conclusion, if you want extra control over sound and more knobs to turn, a head and cab could be a good option. For convenience, a combo is the better choice.
Why buy a low watt tube amp?
Well, apart from sounding awesome you also get a phenomenal output, and bigger is not always better. You might expect these small tube amps to be rather quiet due to low wattage, but you'd be mistaken. The truth is, tube amplification actually gives more volume from lower wattages than other forms of amplification, and the 15-20W ones really pack a punch.
Tube amps need to be driven to reach their ultimate output. If you're not driving your tubes enough, you'll never experience their full tonal range. Obviously, to do this requires more volume than is usually comfortable in a home setting — especially if your family and neighbors don't share your love for guitar playing.
The way they amplify is more efficient. Tube amps with lower wattage reach their peak at lower volumes, which means that you can get that juicy tone at a volume that won't annoy everyone in the neighborhood.
Simply put, there is more bang for your buck with a tube amp. The difficult thing is to find a great small tube amp which is able to give you great tones in the front end even at lower volumes. And at a reasonable price.
Our Choice
Trying out new gear is so much fun, and most of the time there are products that really stand out as favorites. Sometimes though, picking a winner can be a bit of a head scratcher. This is one of those times.
I fell in love with the Orange Rocker 15, due to the awesome sounding distortion for rock and metal and great looks. But also for versatility, ease of use, portability and sheer power. It may however not be within everyone's budget.
It was also somewhat expected, as it falls under the "you get what you pay for" type category. And don't get me wrong here, the other ones all have qualities worth considering. But here is the kicker. The one that really surprised us the most was the VHT Special 6. It came with pretty much all the bells and whistles you would hope for in a tube amp, but at a very affordable price. You just gotta love that!
So, the final conclusion is this. If you're looking for total awesomeness in a small package, and money is NOT an issue, then Orange Rocker 15 will be your best friend. And you will be best friends for a long time.
If you're on a tighter budget though, I would seriously recommend you check out the VHT Special 6. If "bang for your buck" is something that drives your purchase decisions, this thing of total sweetness will be a phenomenal and unexpected surprise.