The best way to learn guitar is a hottly debated topic. There are of course many great programs out there, and we certainly haven't tried them all. But the two programs below have been tested, with proven results, and will truly get you where you want to go. And we love them!
Whether you're just starting out or have been playing for a while, great teachers and great training material will almost always pave the way for your success. Without that good stuff there's a good chance you'll give up on your dreams and let the guitar collect dust instead of being worn out.
To progress as a player, and to have fun, is the most important aspect of your journey. Without those two ingredients there is no journey. That is why we're absolutely delighted to recommend the following guitar programs.
For The Beginner
They say the first few weeks of learning are the most important ones, so a great start is the best platform to build on. Our philosophy when it comes to beginners has always been to have a lot of fun, and the possibility to see real progress early on, as this is surely going to wet your appetite. With that in mind, you really must check out Guitar Tricks. Super easy, step by step learning is basically what they do, and they have over three million new guitarist worldwide to prove it.
If you really want to kickstart your guitar skills in quickest possible time, look no further.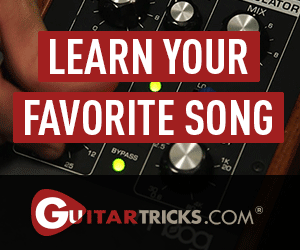 For The Intermediate And Advanced
Well, if you've been at it for while, and like many players hit that infamous plateau, you're going to need some skilled guidance in order to progress. The next step of course is to dig deeper into to all the different techniques, like legato and tapping, alternate picking, arpeggios, as well as how to best navigate the fretboard and build solos etc. So much to learn, but where would you begin? And can you truly reach mastery level?
The answer is yes! It might sound like a sleezy sales pitch, I know, but Claus Levin at Guitarmastery.net delivers like no other. I've purchased several of his products, and have been blown away every time, and I have been recommending him to guitarists for many years now. At one point in my life I spent way too many weeks and months hunting for great guitar programs, but in the end it was worth it.
For those of you who don't know who Claus Levin is, I think it's safe to say he is THE best guitar teacher I've ever come across. He's a soft spoken Danish guy with an almost uncanny way of improving your playing. If you're serious about taking your playing to the next level, this is the ticket for you!