After a thorough test of five guitars, I think that the PRS SE Standard 24 is the best electric guitar for small hands. After my friends and I played a great number of guitars of varying sizes, we all agreed on these standout models.
Some people are addicted to exercise, TV, alcohol, or drugs. But I might have an addiction to guitars. I've been playing guitars for more than fifteen years, and I'm lucky to be able to say that my collection includes some really beautiful pieces of different sizes and shapes.
But, even though I love all of my guitars for their unique attributes, I also know that some of my friends with smaller hands really don't like to play some of my guitars.
They sometimes pick one up and call the neck chunky or fat, and they have difficulty fingering certain chords and phrasings on models with widely-spaced frets.
So we often end up looking for the guitar with the shortest scale and a comfortable neck for them to play.
The Winner
In terms of a full-size guitar with premium pedigree and outstanding playability, we don't ever need to look further than my friend Anders's Paul Reed Smith (PRS) SE Standard 24.
And, unlike other guitars with a shorter scale, the unique joint between the neck and the body still accommodates a full 24 frets. He doesn't let many players even look at his fancier PRS, let alone play it, but the SE model is affordable enough that it is a favorite for sharing, gigging, and even traveling.
Most players with small hands who pick it up and play it feel like it's a naturally good fit for them. It's very versatile and comfortable to play, even without long fingers.
If you like the song I'm singing so far, let's look deeper at what makes a guitar better for small hands.
5 Best Choices for Electric Guitars for Small Hands
Out of all the electric guitars on the market, this collection of five is among the best choices for players with small hands. Don't think of them as just beginner or kids guitars either. However, a couple of models are ideal for youngsters and novices and typically thought of as only for them.
But, consider that (for players of any size) it is often nice to have a small, lightweight guitar to noodle around with on the couch or add to your traveling gear. And if you have a player with smaller hands, these models are ideal for them.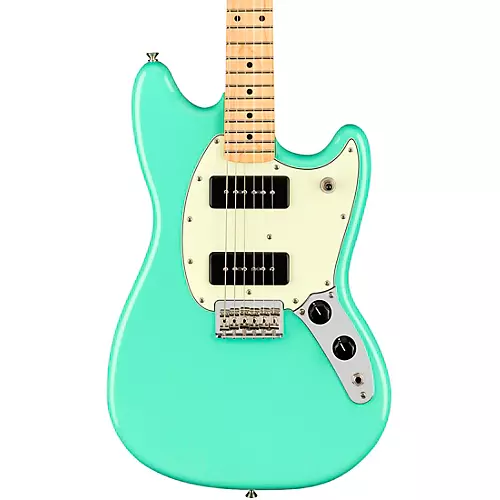 The Fender Player Mustang 90 Guitar is a solid choice for an adult with smaller hands. It's not that expensive, but it's more of an investment than a starter guitar or a miniature model. But, it does have a classic look, and it comes from Fender, a name that is synonymous with guitars and rock music.
This model has a bit of a vintage appearance, but it sports some upgraded features, particularly in the electronic department. The neck is pretty flat, so playing melodies and solos are relatively easy, and it's probably easier for someone with smaller hands to finger chord positions on this guitar, but they might get fatigued over time, as it takes a bit more strength to hold the strings flat.
Though it's made in Mexico instead of in the USA like other premium Fender models, this guitar has a maple fingerboard, a solid alder body, and a C-shaped neck made of maple. It only has 22 frets, so playing very high on the fretboard may be difficult, so if you are trying to solo along with David Gilmour in the extreme upper reaches, you might want to look elsewhere.
Product Highlights
Neck Radius — 9.5"
Scale Length — 24"
Neck Profile — C-Shape
---
The Ibanez ¾ Size Mikro Guitar is perfect for a kid's first guitar. It is very inexpensive, and its ¾ size is ideal for a player who isn't grown all the way into their frame. Its miniaturized frame and lighter weight (less than nine pounds) make it easier to hold and much easier to play than a full-scale model.
It looks just like a full-size Ibanez! But its super-thin neck and shorter scale make fingering notes and chords much easier for a player with smaller hands, or anyone else for that matter.
It is also available at a highly affordable price point, so you don't have to think about taking out a loan or second mortgage to buy it for your kid.
But, this guitar doesn't grow, even though your kid will. So, it's unlikely that this guitar will remain a favorite as they get bigger.
All of the advantages in terms of sizing can become less important as a kid grows up a bit, and then you'll probably start hearing that all the other kids are getting full-size guitars and that they want one too. Consider that limiting factor in your budget and purchase decision.
Product Highlights
Neck Radius — 15.75"
Scale Length — 22"
Neck Profile — Very thin
---
The Fender Squier Mini Stratocaster is another scaled-down model of a full-size design. The poplar body and laurel wood fingerboard emulate the timeless design of the Fender Stratocaster. For a smaller player, this guitar is a great choice.
It is also very affordable, only slightly more expensive than the Ibanez ¾ Mikro. But it sports three single-coil pickups, die-cast tuning machines and is available in a huge range of colors. It's pretty likely that you can pick a guitar color that appeals to your taste.
And, most importantly for players with smaller hands, its abbreviated scale length, C-shaped neck, and lighter weight (barely over three pounds) make it an excellent choice for a beginner, a kid, or just a smaller player with less reach between their fingers, and maybe less grip strength too.
It's even available in a left-handed configuration, so anyone can enjoy this model.
Product Highlights
Neck Radius — 9.75"
Scale Length — 22.75"
Neck Profile — C-Shaped
---
The PRS SE Standard 24 Electric Guitar is my goldilocks model electric guitar for players with small hands. It's not too big, or too small. It's just right. It comes with an all-mahogany body, a maple neck featuring a rosewood fingerboard, and dual humbucking pickups for supreme sonic capabilities.
Available in three timeless color styles (tobacco sunburst, vintage cherry, translucent blue), this guitar might make you forget that you're playing a PRS made overseas. It feels pretty damn close to playing a PRS flagship model 24 series guitar, but it's SE pricing makes it affordable even for a first guitar or a novice.
And, with premium materials, a double-cutaway design for playability even on the highest reaches of the fretboard, and a proprietary PRS tremolo system with sealed tuners, even experienced players with big hands may find themselves in love with this guitar.
But, the 25" scale length and small radius neck make it ideally suited for an experienced player who is only limited by small hand size.
Product Highlights
Neck Radius — 10"
Scale Length — 25"
Neck Profile — Pattern Thin
---
The Epiphone Les Paul Traditional Pro IV Electric Guitar is another classic electric guitar design. Many budget brands manufacture guitars with the Les Paul look, as well as more prominent names like Epiphone and Gibson.
Epiphone Les Paul models are typically a bit less expensive than those offered by Gibson, but there is considerable variation across their lineups.
For players with smaller hands, the Les Paul design is very comfortable. Much of that comfort comes courtesy of the C-shaped, SlimTaper neck. Whether you're playing rhythm or lead, you will likely appreciate the ease with which you can finger your desired notes.
The scale length is a bit shorter than some more extended models, so you are limited to just 22 frets with this guitar. But, you'll still have plenty to keep you busy with dual humbucker pickups, a three-way pickup switch, and Epiphone's proprietary treble-bleed circuit with coil-splitting.
Even if you don't understand all of those electronic specs, rest assured that this guitar offers incredible sonic diversity for playing all types of music.
And, it's available at a very reasonable price, with free shipping and optional financing. Check out the four different colors on offer as well.
Available Colors
Worn Wine Red
Worn Ebony
Worn Metallic Gold
Worn Pacific Blue
Product Highlights
Neck Radius — 12"
Scale Length — 24.75"
Neck Profile — SlimTaper C
---
Buying Guide
When you're shopping for an electric guitar for a player with smaller hands, you need to zero in on the aspects of the neck's design. You also have to remember that there is a huge variety across manufacturers and models.
Each player will have to spend some time getting used to any guitar to find the right setup for them and the type of music they play.
Price
Budgeting for a guitar purchase can be difficult. At the top-end, you can pay more than $10,000 for a premium, custom guitar. There are decent starter guitars at the budget end of the spectrum that only cost a few hundred dollars. In between are countless guitars from dozens of manufacturers.
So, you have to tailor your budget to meet your needs. If you're shopping for a kids' guitar, it's a good idea not to break the bank until you evaluate their long-term commitment to playing.
If you have a more seasoned player, there are lots of mid-range guitars to choose among. Some designs are built by more than one manufacturer, like the timeless Les Paul design that is available at a budget price, a mid-range price (Epiphone), and a premium price (Gibson).
Then, even within single brands, there is a tremendous variance in pricing. Some models are built in Mexico, Indonesia, or Korea. They are often available to purchase at an affordable price point, sometimes even without sacrificing much quality. But, you have to pay extremely careful attention to the materials used and the build quality.
For instance, the PRS SE model we reviewed is a scaled-down version of the PRS 24, their flagship model. Versions of that guitar run many thousands of dollars, meaning that you may have to finance your purchase over time. Top-of-the-line, premium guitars that carry a made in the USA label tend to be quite expensive.
But, the PRS SE model delivers serious playability, high-quality construction, and a beautiful PRS design at a much more manageable price point. No loans are needed!
Scale Length
The biggest factor in making a guitar more playable for someone with small hands is the length of the scale.
The longer the scale, the more spread out the frets are. That means that fingers have to stretch further to finger notes and chords. So, by shopping for a guitar with a shorter scale, it's easier to play with a smaller set of hands.
But, on a full-size guitar, that usually also means sacrificing a couple of the highest frets on the neck altogether. That can limit soloing a bit, especially if you are trying to emulate very high players like David Gilmour of Pink Floyd or Dickey Betts, formerly of the Allman Brothers Band.
Neck Radius
The radius of a guitar neck doesn't necessarily make it any thicker. Instead, it more accurately describes the 'crown' of the neck. This article does a great job of explaining and illustrating what the neck fingerboard radius refers to.
Some salespeople don't really even understand the term themselves, so it's often best to actually pick up a guitar and see what the neck feels like.
The neck's radius is more likely to be an influence on your playing style than almost anything else on your guitar. But for a player with small hands, it's a good idea to understand the neck radius accurately, so you can discern the playability of different models and how it might affect your unique playing style.
Neck Profile
The shape or thickness of a guitar's neck is its profile. Thin, wide flat, C-shaped, or D-shaped are probably the most common terms used to describe a guitar neck. Those terms are pretty self-explanatory.
C-shaped necks are by far the most prevalent on electric guitars. Again, the profile does not necessarily make it easier to play for someone with small hands. D-shaped necks are also very common. But, aside from shapes and profiles, getting a neck that is comfortable for you to play is essential.
For instance, someone with a smaller hand might really like the feel of a thin neck. But, the design of the fingerboard or the height of the action (the height of the strings above the fretboard) might require a player to apply a lot of pressure to play a chord.
That can lead to cramps and make playing uncomfortable, particularly when fingering intricate chords or doing so for long periods. If you have the chance to do so, it makes a lot of sense to sit down and play a guitar, or one with the same neck, for a good long while before you decide it's right for you.
Neck Taper
Some guitars have tapered necks. That means that as you slide along it, it narrows down a bit. That can be very useful for a player with smaller hands. But, it's not always featured in terms of marketing for a guitar.
While it might be hard to find specs on the tapering of a particular guitar, you can remove a lot of the mystery of how it feels by going to a local music store and actually picking one up to play it. Even if you can't find the exact model or color you want, it's a good way to gauge how well it will fit in your small hand.
Conclusion
It's pretty much a given that you have to pick up a guitar and play it before you know how much you will like the neck's feel. The best guitar for small hands is probably the best guitar overall in this review, the PRS SE Standard 24.
This guitar isn't made in the USA like the top-flight models from Paul Reed Smith, but the factory in Indonesia knocked this model out of the park. It is truly a beginner guitar that can become a forever guitar.
If it's in your budget, you shouldn't hesitate for a second to purchase the PRS SE Standard 24. It's easy to buy online, and you'll even be able to find free shipping and financing available.
Plus, their two-year warranty applies not only to all PRS SE guitars but parts, hardware, electronics, and cases too.
The other options listed here are great choices as well, so try out whichever one has the specs you're looking for and get the music going! Or why not check our guide on how to choose a guitar