Yes my friends, it's definitely time to jazz things up a bit. I tested several of the best jazz guitars and found the Ibanez LGB30 George Benson signature model to be the best guitar for jazz.
Shopping for a jazz instrument is an entirely different animal from shopping for, say, a rock or blues guitar. The quality and construction of the guitar are of paramount importance. Unlike other styles of music, you can't make up for an inferior instrument with an excellent amp or a collection of effects pedals. If a jazz guitar isn't up to snuff, you'll hear it immediately.
What compounds the challenge of shopping for the best jazz guitar is that there simply aren't as many manufacturers or models to choose from as there would be if you were shopping for a solid-body electric or acoustic. When shopping for a jazz instrument, you need reliable advice from trusted musicians.
With the LGB30, Ibanez has bridged the gap between affordability and excellent tone and quality. This guitar is a gorgeous specimen. With premium appointments like an ebony fretboard with Artstar fret dressing and Super 58 pickups with warm and responsive Alnico-III magnets, it's no surprise that it's the chosen axe of a jazz giant.
Making this Ibanez archtop even more attractive, it's available at a price with which few jazz guitars can compete. This guitar is accessible to players on a budget, but it provides the quality and tone that discerning musicians need to reach the next level.
Read on as we cover this guitar in further detail, along with some compelling alternatives. We'll also look closely at the features and characteristics you should be looking for when shopping for a jazz instrument.
The Best Jazz Guitars on the Market
Without further ado, let's check out some excellent jazz guitars.
Since 1958, the Gibson ES series has been the true "jack of all trades" guitar for professional musicians. For jazz and blues guitarists, beating the warmth and body that an ES-335 provides is tough. Meanwhile, its slim profile helps quell feedback, making this guitar an excellent choice for rock, country, and alternative music.
The Satin ES-335 strips away some of the luxury appointments of the top-end ES-335s, but it doesn't make changes to the bones of the guitar. If you ask me, a gloss finish or a figured top isn't worth an extra $500-1000 when all the guitar's components are identical to the more affordable satin model.
This ES-335 begins with a three-ply maple/poplar/maple top, back, and sides. The solid mahogany neck features Gibson's signature C-profile; the neck and both sides of the body have stately cream binding, and a rosewood fretboard with acrylic dot inlay completes the framework of this excellent jazz box.
Gibson adds calibrated T-Type humbuckers to both the neck and bridge positions, and independent volume and tone controls allow you to effortlessly blend pickups to find the perfect tone for your music.
With its ABR-1 Tune-o-Matic bridge and pressed tuners with keystone tuning buttons, this ES-335 is faithful to the first ES that left Gibson's Detroit factory in 1958. The only noticeable updates are a Graphtech nut and modern T-Type humbuckers, which make this 335 even more effective than the vintage models.
Pros
Ideal for jazz, versatile enough for everything else
A thin body profile makes this guitar more approachable for smaller players
Includes deluxe hardshell case
Cons
Expensive
Not quite as warm as thicker hollow bodies
---
Ibanez found a foothold in the American market by copying sought-after American guitars from the 50s and 60s. These early Ibanez copies of Gibson instruments were some of the most affordable jazz guitars around, and they sounded and played every bit as well as the genuine article. 
After a lawsuit in the 70s, Ibanez began to turn their focus toward solid-body electric guitars. While they always offered a selection of jazz instruments, these new Ibanez guitars fell short of the lawsuit-era models. Thankfully, Ibanez has renewed their focus on jazz instruments in the 21st century, and its selection of jazz guitars is among the best.
The LGB30 is one such guitar that will leave an indelible mark in jazz. George Benson counts this guitar as his signature model, and it's loaded with luxury appointments fit for a guitarist as renowned as Benson.
This guitar begins with a beautiful spruce top and highly figured flame maple back and sides. A three-piece maple and mahogany Artstar neck is set into the body with a contoured neck joint that makes it easy to reach the upper register. From there, Ibanez adds a gorgeous ebony fingerboard with pearl and abalone inlays.
The frets receive Ibanez's Artstar fret dressing treatment, which makes for an incredibly smooth and comfortable fretboard, something you rarely see on guitars in this price range. The whole guitar is bound with a gorgeous 5-piece white and black binding, and at the headstock, you'll find George Benson's signature logo.
Ibanez loads this guitar with Super 58 Custom pickups, which deliver warmth and responsiveness while maintaining a bit of growl. The pickups are more than capable, but an upgrade in this department could send the LGB30 even further into the stratosphere.
Ibanez even includes a deluxe hardshell case to protect your instrument when it isn't in use.
Pros
Unbeatable price for the quality of this guitar
Beautiful finish and binding
Comfortable neck profile and excellent fret dressing
Includes hardshell case
Cons
---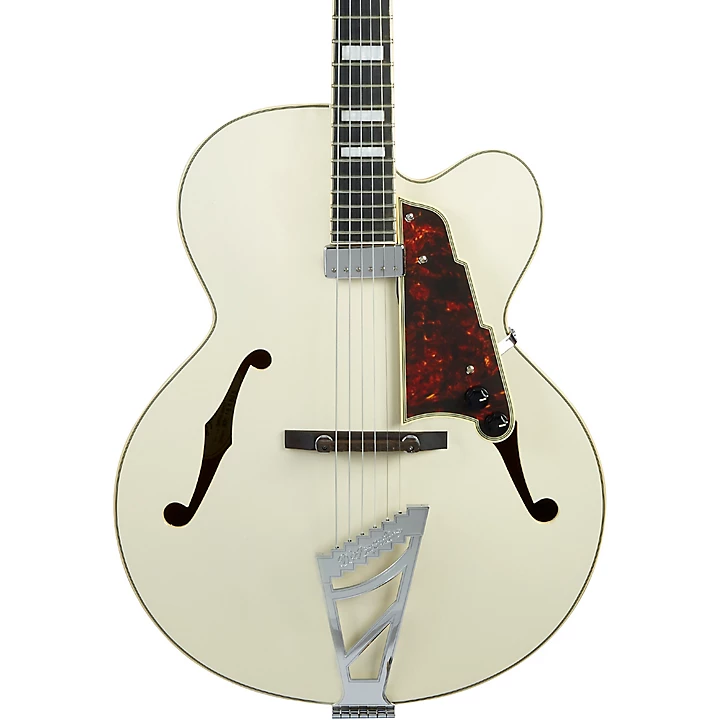 All jazz guitarists are familiar with the legendary custom shop instruments from John D'Angelico's storied Little Italy guitar shop. Unfortunately, the quality and beauty of D'Angelico's guitars were rivaled only by their price, and for many jazz guitarists, D'Angelico's caliber was simply out of reach.
Today, D'Angelico has moved beyond the custom shop, offering an excellent selection of production instruments that maintain the spirit of D'Angelico without the custom shop price tag. The Premier Series is a perfect example of that, and the EXL-1 model offers the look, feel, and some of the legendary tones for which D'Angelico is famous.
The EXL-1 begins with a solid spruce top with laminated maple back and sides. A set maple neck with an ovangkol fretboard further complements the instrument. The body, neck, and headstock are all beautifully bound with multi-ply binding.
The EXL-1 offers all the beautiful art deco appointments that D'Angelico is known for, such as the signature headstock shape, truss rod cover, and headstock inlay. This guitar even features the iconic Rotomatic stairstep tuners of classic D'Angelico's.
This guitar features a single Duncan-Designed floating mini-humbucker with pickup controls mounted to the tortoise shell pickguard. Mounting controls like this help eliminate the loss of resonance and tone when you attach electronics directly to the guitar top.
The look and feel of the EXL-1 are classic D'Angelico, and you could easily mistake this instrument for one of D'Angelico's $5,000+ custom shop guitars. That is until you begin playing it. Unfortunately, this guitar doesn't offer the premium feel or signature tone of D'Angelico's American-made guitars.
Still, at well under $1,000, you have to be prepared to make concessions. This is not a custom shop D'Angelico, but for the money, this is arguably the best archtop jazz guitar for beginners.
Pros
Gorgeous looks and true-to-the-original appointments
Pickguard mounted controls
Quality humbucker from Seymour Duncan
Includes deluxe gig bag
Cons
Fretwork is mediocre and could be improved
Laminated back and sides don't provide the same warmth as solid wood
Jazz Guitar Buying Guide
Whether you choose one of the excellent guitars we discussed above or plan on heading to your local music store to find something different, these are the features and specifications you should be looking for in a guitar. You'll have no trouble finding an ideal jazz guitar with the tips in this buying guide.
Hollow vs. Semi-Hollow vs. Solid Body
Arguably the most crucial factor to consider when shopping for a jazz guitar is the style of the instrument. Electric guitars are available in three types: hollow body guitars have an open chamber between the top and back, semi-hollow guitars are thinner, with a partially hollow chamber; and solid bodies, made from a single solid piece of wood.
Hollow body electric guitars have been around for nearly a century, offering the most resonance and purest tone of any jazz guitar. Hollow body guitars are essential for capturing the sounds of jazz through the 1960s, and they're especially popular with solo and trio jazz musicians. The drawback of this style is they're most prone to feedback.
Semi-hollow electrics are much more feedback resistant but don't offer the same resonance as a hollow body guitar. They still sound excellent for jazz but don't provide the same nuanced quality as a hollow body. That said, semi-hollow guitars are significantly more versatile and will serve you well for other musical styles beyond the world of jazz.
Solid-body electrics are an excellent choice for jazz fusion, and with the addition of piezo pickups, it's possible to produce some compelling jazz tones with a solid-body guitar. However, they fall far short in the resonance department, a critical component of a classic jazz guitar tone.
Build Materials
The most critical aspects of a jazz guitar are the materials from which it gets built. With most jazz guitarists choosing semi-hollow or hollow body guitars, quality wood is a practical requirement for achieving a complete and nuanced jazz tone.
Look for guitars built from solid tonewoods such as maple or spruce. Both materials sound excellent, while spruce offers a more pronounced high end. Guitars with laminate bodies can still sound impressive, but they don't provide as much resonance as solid tonewoods.
Most jazz musicians prefer a maple or mahogany neck in a C or thin-C shape, and fretboards are traditionally ebony or mahogany. Ebony is the industry standard for quality, while new woods, such as ovangkol, are becoming more popular. 
Beyond these characteristics, everything else is window dressing. Elements such as multi-ply binding, inlays, and gold hardware are all nice to have and enhance the elegant look of a jazz guitar. But, if you're on a tight budget, these are the first elements of a guitar you should look to forgo to save money.
Electronics
Virtually all guitars have magnetic pickups that amplify the guitar's sound when connected to an amplifier. Beyond the construction materials and body style, pickups are the most essential thing to consider when choosing a jazz guitar.
High-quality vintage-style pickups are preferred, especially those with Alnico-II or Alnico-III magnets. Most jazz guitarists opt for humbucking pickups, but single coil P-90 style pickups are another viable choice.
A quality set of pickups will capture and replicate the natural tone of a quality guitar. Pickups become even more critical for guitars of lower quality, as great pickups can often gloss over an instrument with mediocre acoustics.
Fortunately, pickups are easy to replace. If you have to choose between an instrument that plays like a dream and sounds excellent unplugged and a guitar that doesn't play or sound as good but has excellent pickups, choose the better-playing guitar, and swap out the pickups later.
Country of Origin
The last thing to consider when shopping for a guitar is where it got made. Any guitar needs to get built from quality materials, but the people who put together the guitar are nearly as important.
The United States remains the hallmark of quality for electric guitar production. Guitars made in the USA are built by skilled luthiers with decades of experience producing quality instruments. Of course, plenty of guitars manufactured overseas get built by skilled craftspeople, but no country has the reputation for quality that the U.S. does. 
Guitars built in Japan, Mexico, and Korea have a similar reputation for quality. Many top manufacturers make their guitars here to cut consumer costs, as labor is cheaper outside of the U.S., which is the caveat of American instruments. Guitars made in the U.S. are considerably more expensive than most models manufactured overseas.
If your budget doesn't allow for an American-made instrument, you'll still be able to find plenty of excellent jazz guitars. Examine different guitars and choose the one that meets your needs most closely while adhering to your budget.
Final Word
While it sometimes seems like jazz is a forgotten art form, there's a world full of talented guitarists who keep the flame alive. Thankfully, it's easier than ever for jazz musicians to find quality guitars.
While each of the guitars we profiled above is an excellent choice, one guitar, in particular, earns the distinction as the best guitar for jazz. The Ibanez LGB30 George Benson signature model offers the ideal blend of playability, looks, and tone, at a significantly easier price for working musicians to digest.
If you're ready to step up to the Ibanez LGB30, take a closer look at this gorgeous archtop at Guitar Center or Thomann. Maybe you're also leaning towards blues a bit, so why not also check out our guide Best Guitars For Blues.