The Gibson Les Paul is legendary in the guitar world – perhaps the most famous, most widely acclaimed, and most desired guitar out there, and rightly so.
The problem, of course, is that Les Pauls are wildly expensive, making it difficult for most guitarists to experience the joy of using one.
To solve this problem, we've compiled a list of the best Les Paul-style copy guitars for a wide variety of players regardless of musical genre or playing style. We chose the items on this list because they offer everything that makes the Les Paul the best – high-quality sound, physical comfort, and timeless style.
We outline all of the best options in this list, but the best of all is the Epiphone 1959 Les Paul Standard. Read on to learn about the best Les Paul copies and see which one is best for you.
Our Top 6 Options for a Les Paul Copy
We rate the Epiphone 1959 Les Paul Standard the best Les Paul copy option because it fills all the requirements better than the rest of the guitars on this list. It's the most faithful replication of the Gibson Les Paul aesthetically – with a much lower price tag, to boot.
The body is made of the same tonewoods as the Gibson (mahogany and a AAA maple veneer top) and a rounded mahogany medium C profile neck that makes for a comfortable grip and a nice fit against the body.
Of course, there's also an aesthetic similarity, with the Epiphone faithfully reproducing the look and design of the Gibson Les Paul.
This model is available in two sunbursts designs, both of which are authentic to the name. The stain doesn't overtake the finish either, and the woodgrain can poke through the aged gloss finish and add a layer of class that is synonymous with Les Paul.
Part of the Gibson charm and sound comes from the materials used in the shape of the guitar. Maple, mahogany, and that rounded curve lend the Epiphone 1959 a good foundation for a close Les Paul sound.
On top of that, the ​​hardware bridges the gap for this copy. Gibson Burstbucker pickups, 3-way toggle, and '50s wiring imbue the sound with a vintage feel that's easily controlled by the player. Mallory caps on the tone control add a fat and punchy sound, further developing it and filling out the midrange frequencies.
Adjectives and brand names aside, this means that the Epiphone 1959 Les Paul Standard carries the same warm, full sound you'd find in an original Les Paul without any of the muddled mid-range notes that a lower-priced guitar can have. Those listening will appreciate the sound even if they know nothing of the guitar it's trying to copy.
This means that from top to bottom, this guitar is an excellent choice for anyone who wants to feel like they're playing a Gibson but doesn't have deep enough pockets to afford one.
---
Although the Schecter Solo II Custom wasn't rated the best Les Paul copy, we still see it as a solid contender for its modern innovations and affinity for hard rock. Anyone seeing this guitar would be hard-pressed to see it as anything but a stage guitar to showcase a rocker's talent.
The guitar uses custom Pasadena Plus humbucker pickups, a design created for Zacky Vengeance, the rhythm guitarist of Avenged Sevenfold. Other notable features include a push-pull function for rapid coil-splitting, individual volume controls, and a three-way pickup selector.
Behind all of these innovative features, though, the guitar can still match up with the unparalleled sound quality of the Gibson Les Paul, mainly due to its mahogany body and neck and attention to the seemingly unimportant details like how the pickup selector moves.
When it comes to design and aesthetics, this guitar doesn't have the sunburst pattern of a Les Paul, but it does make a statement much as a Les Paul would. It boasts an ebony jumbo fretboard with a compound radius and pearl inlay attached to a solid wood body.
That said, the Schecter Solo II is one of the most expensive Les Paul copies out there. Only strongly consider this option if you're really in love with its style, are a fan of Avenged Sevenfold willing to drop a lot of cash, or are looking for a guitar that best suits hard rock.
---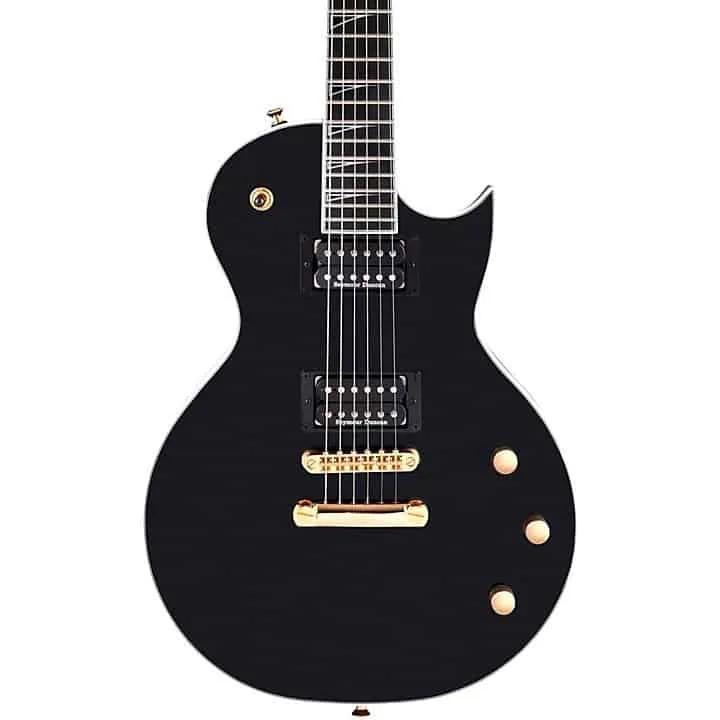 This take on the Les Paul style is ideal for any guitarist who loves to shred or play fast. It speaks of hard and fast music, so a metal style or hard rock player will love its uncompromising tone and smooth rhythms. This guitar will appeal to a demanding lifestyle on stage.
The Jackson Monarkh Pro has an ultra-thin neck, allowing for quicker and easier finger movements as you manipulate the sound. Graphite reinforcement rods within the neck will help prevent humidity-induced bending and add additional stability during playing.
The Jackson Monarkh Pro comes with Seymour Duncan '59 and HB humbucking pickups, allowing for that classic sound and tone that you'll be looking for in a Les Paul copy. It comes with a 3-way pickup switch, as well as a master volume and tone knobs for precision.
This model also has a solid mahogany body and an arched, quilted maple top. And don't worry, like the best Les Paul copy, the Jackson Monarkh Pro has a set-in oiled maple neck, as well as 22 jumbo frets made of ebony with Pearloid ghostfins inlay.
Overall, we love the Jackson Monarkh Pro for anyone who is looking for an investment into a long-lasting guitar made with high-quality craftsmanship. Any player would be pleased to have the gift of a Jackson Monarkh Pro. These guitars are made carefully and precisely, using excellent materials and design principles to ensure fantastic sound and guaranteed durability.
---
If you're looking for a guitar that matches the heavy and distinct sounds a Les Paul is capable of, you can't go wrong with the Ibanez Art120QA.
This electric guitar is the best fit for musicians looking for the distorted, heavy rock tones that can be a crucial element in the heavy rock music genre without needing to rely on equalizers and pedals.
Part of copying a Gibson Les Paul is understanding the fundamentals of the guitar without replicating it note for note. It isn't necessary to play classic rock to appreciate a Les Paul, the innovation that has made it so great now exists in other ways within the Ibanez Art120QA as part of the hardware and electronics.
What's great about this guitar is that despite the high-quality sound distortion and a visually attractive appearance, it's actually on the slightly more affordable end of the market. Essentially, for a fair price, you're going to get the high-end aesthetics and rock n' roll sounds of an original Les Paul in an eye-catching package that will be a delight to play.
The Ibanez Art120QA is made with a poplar body and sweet maple top and neck, giving the guitar that snappy and sharp tone—following suit with Les Paul standards, the neck is set in, and the fret is bound purpleheart with 22 frets and block inlays.
While a distinct sound, rich sustain thanks to the Gibraltar Performer bridge, and a design that gets remembered by the audience is very important in a Gibson Les Paul copy, our favorite feature on this model is the Dual Classic Elite humbucker pickups, which are perfect for the guitarist who relies on killer riffs and heavy chords.
---
This guitar is our preferred pick for a metalhead who wants to take on some Les Paul aesthetics and sound. Like most Washburns, the Washburn Parallaxe PXL20 is great for heavy metal sound, never slowing and always producing the deep and rich sound the genre needs.
In terms of aesthetic design, this guitar is edgy and sexy, regardless of whether you choose rosewood or ebony. Our Washburn pick is with the mahogany body and maple neck standing out with a glossy finish over ebony.
The wider lower bout and carved back of the body make this model of guitar both attractive and comfortable to play, evoking sharper metal guitar that gave the instrument the nickname 'axe.' Low positioned saddles near the bridge offer more comfortable playing, helping to stay out of the way whether picking or shredding.
This guitar is higher in the Les Paul copy price range. Still, we think it may be worth it, especially when considering the Seymour Duncan USA SH2/SH4 humbucker pickups, which create tones that are sustained but never waver in their clarity and have that satisfying crunch you like to hear in heavy metal guitars.
With that in mind, this is a fantastic heavy metal take on the classic Les Paul style and a great addition to the right player's arsenal.
---
Aesthetic taste is subjective, but for our money, the ESP LTD EC-1000 is the most visually striking guitar on this list, almost making you forget about Les Pauls. There's something about its glossy veneer and striking shape that makes you want to play or listen, depending on your musical talent.
Coming in at just over $1000, it's one of the most expensive items on this list (certainly more than a standard grade Les Paul soundalike), but between its visuals and its incredible sound, it's easy to see (and hear) why people are willing to pay the price tag for it.
This guitar is an excellent choice for hard rock and metal guitarists, and not just because it looks like the guitar that the Angel of Death plays when he sweeps down from the heavens to strike down sinners. It's because it knows it's a fantastic guitar and, between design and electronics, it can show it.
With a flame top mahogany body and neck, EMG 81/60 active humbucker pickups, rosewood fretboard, and a TonePros locking bridge, the ESP LTD EC-1000 produces a sound that's as dense and meaty as a bowl of chili filled with lugnuts. Play it right, and it will happily add in some crunch free of charge.
While the ESP LTD EC-1000 isn't the most classically inspired rendition of a Gibson Les Paul, it still produces one of the meanest sounds out there, competitive with Gibson guitars that cost twice as much. This electric guitar embodies the Les Paul spirit, creating music that is remembered for a long time even if it doesn't look like a Gibson Les Paul original.
---
Buying Guide
Since there are so many options on this list, it's essential to know the most important factors when choosing the best Les Paul copy so that you can determine which guitar suits your needs. Here, we outline the essential elements.
Sound Quality
One of the biggest appeals of the Gibson Les Paul is its timeless sound – rich, warm, and full of vintage flair. For this reason, when you're buying a Les Paul copy, sound quality should be one of the most critical factors in your purchasing process.
Make sure that whatever guitar you buy has a body and neck made of mahogany, as this wood is what imparts the Gibson Les Paul with its signature sound.
Aesthetic
It's obvious, but its visual appeal is one of the best things about the Gibson Les Paul. If you're looking for a Les Paul copy that looks like the original, look for single-cutaway guitars with curvaceous bodies and gradient colors.
Cost
The entire reason you're looking for a Les Paul copy is, presumably, that you don't want to drop several thousand dollars on an original Gibson – so money should always be an important factor. Of course, there are many different options at different levels of cost.
Depending on your needs, you might be looking for a cheaper model like the Ibanez Art120QA, which will run less than many of the others on this list. But if you're able to drop more cash, you can get a Les Paul soundalike with an even richer sound and more innovative features for upwards of $1000 and still be getting a bargain.
Innovation
If you're a guitarist with an eye towards a future, you might not want to go for a guitar that's just a sendup to the original Les Paul. Instead, you might want guitars with all the extras that modern technology can offer, ones that will let you play your distinctive sounds.
Pickup switches, tone knobs, and active humbucker pickups elevate a guitar's sound without requiring additional equipment like distortion pedals.
In that case, go for a guitar like the Schecter Solo II or ESP LTD EC-1000, both of which blend a Les Paul-like sound with numerous modern features to create a sound all their own.
Our Verdict
At the end of the day, there are a wide variety of factors that might influence which Les Paul copy fits your needs best. But for our money, it's the Epiphone 1959 Les Paul Standard that stands above the rest.
Whereas other guitars might be suited explicitly for amateurs, innovators, cost-savers, or aesthetes, the Epiphone 1959 Les Paul Standard is the best all-around option.
It offers exactly what everyone is looking for in a Les Paul copy: a guitar that sounds great, looks great, and doesn't break the bank.