I spent a few days testing capos, and found five that really stood out. Out of those five I think the G7th Performance 3 Art is the best capo for acoustic guitar.
Over the years that I have played guitar I have owned and used all kinds of capos. In my experience, some of the most expensive capos are a hassle to set up, requiring two hands and many adjustments. 
Other capos cost just a couple of dollars and are easy to set up. But, they tend to make more unwanted noise and reduce the overall sound quality of my guitar and the songs I'm trying to play.
When I say that the G7th Performance 3 Art capo is the best capo for acoustic guitar, it's because it is the best combination of value, quality, versatility, durability, and ease of use. 
I will break down all the capos for you, so keep reading to see if you agree with my conclusions.
Acoustic Guitar Capos: Mini-Reviews
When testing each of the capos, I used the same guitar. My Martin acoustic has a great tone and offers a solid starting point for evaluating each accessory.
Here's what I found for each of the five best capos on the market. I'll also explain how each one can help fill a niche for guitar players with different needs. Let's check out the best capo for acoustic guitar.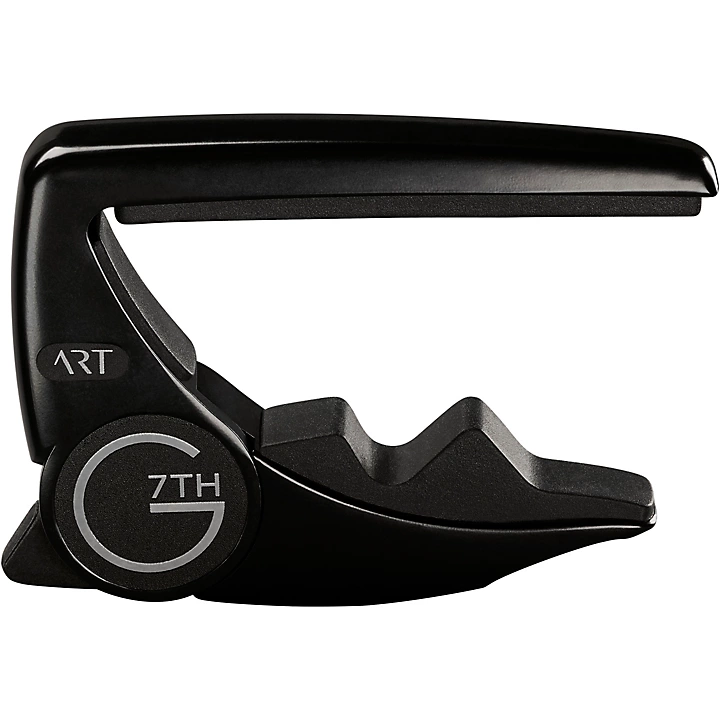 The G7th Performance 3 Art capo is at the top of the food chain for acoustic guitar capos. That said, it's also near the top of the price range.
If you're a seasoned player or even a pro, and you have a discerning ear that requires audiophile-level sound quality, this is your capo. It's the best available unless you're ready to break your bank.
The G7th 3 ART has everything you need for maximum tuning stability. With quick adjustment via the pressure of your grip, you can adjust the string pad mechanism's bite to ensure it distributes tension equally across the fretboard.
Thanks to the Adaptive Radius Technology (ART) at the heart of the design, it works for any six-string guitar and in any position on the neck. 
---
The Shubb C1 capo is my runner-up for the best acoustic guitar capo. For many guitarists, it might be the top choice, as its price makes it more accessible than our top choice, and it will work well in most applications.
Its construction is solid, and the design is quite familiar. The standard capo clamping mechanism has an added locking screw that helps to fine-tune the tension, minimizing sound deadening. Its locking screw roller is very precise and has a firm, durable feel in your hand.
But, the capo has one major issue that knocks it off the top step.
This capo will struggle to bridge all six strings on some guitars with a wider neck profile. On my Martin X-series, it was adequate, but I realized it was muting my high strings. I had to fiddle with it for quite a while, but the rubber that presses the strings is just a bit too short for some wider necks.
---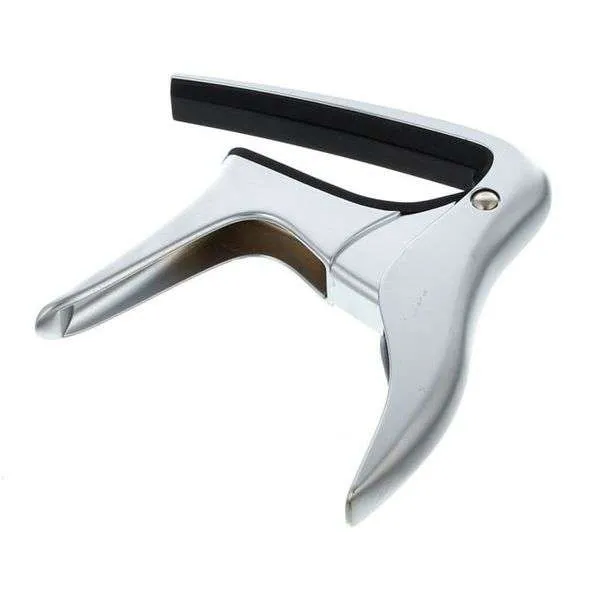 The Ibanez IGC10 capo doesn't do anything fancy; it's a simple tool with a familiar design. It's ideal for a no-frills player who wants something nicer than the budget models. Where other capos can be a little hassle to set up, this one is straightforward and relatively versatile.
It lacks some of the features and fine adjustments of some top-tier gadgets. But, this is an easy choice for most players who want a capo to toss in their gig bag.
The only downside is that the lack of an adjusting screw or other clamping adjustment can lead to some dull tones when tension isn't as precise as you might like.
It offers precise grip, one-handed application, removal, and a competitive price point. The finish seems very durable, and this capo feels solid and tough in your hand. 
---
The Fender Phoenix Capodaster is among the most versatile on the market. It works well with nearly any acoustic guitar, as it has plenty of tension in the spring but the capo's profile allows it to apply firm, even force across relatively narrow or wider guitar necks.
Beyond its versatility, Phoenix's biggest selling point is its price. It's the least expensive from a reputable manufacturer but doesn't feel cheap. It's strong, lightweight, and sturdy. Unlike some knockoffs or bargain basement capos, it applies even tension and maintains your tone.
If I was going to jam at a friend's house or a party, this is the capo I would bring with me. It works with almost any guitar, and it's inexpensive enough.
---
If you're looking for the best capo regardless of price, and you also have a bit of an artistic or showy air, you may want to spring for this Thalia capo in mother of pearl finish. While other capos offer a range of features and varying quality, this is the best of the best.
Two major features set this capo apart from all the rest.
First, each capo comes with fourteen individual fret pads. You can select the one from the set that matches your guitar neck's profile. This adjustment takes a minute or two, but it offers unprecedented accuracy and provides the exact, even pressure you need to stay in tune while playing with a capo.
The second noteworthy feature is the mother of pearl inlay that adorns the capo. This eye-catching adornment makes this capo a piece of art. It's also exceptionally durable. 
---
Buying Guide
When you're in the market for a capo, there are a few things to keep in mind. If you do, you'll get the right capo for you, your guitar, and your playing style.
Guitar Neck Profile
Capos fit around the neck of your guitar. The pad on the back of the neck protects its finish, and the pad on the front depresses all of your strings. This setup allows you to change the open tuning of your guitar without adjusting the string tension.
Some run-of-the-mill capos won't press firmly across all the strings if your neck profile is round or very flat. The result of ill fitment is that the capo might 'mute' some strings instead of changing their tuning.
So, if your guitar's neck has a unique profile, you must take extra care to get the right fitting capo. Or, you can buy an adjustable capo, like the Thalia models, that adjusts to any guitar's neck. 
Price
As with any purchase, you must consider a budget's cost. You can probably find a capo for less than ten dollars from a bargain bin at the local music store. But it's not going to be high quality.
You can get a simple clamping model without any adjustments for a few dollars more. If you have the money, you can bump your spending up just a bit and get one that allows you to use it with a wider range of guitars.
If you have closer to a hundred dollars to spend, you can get a capo that adapts to any guitar with various pads and adjustments. These high-end capo models often offer materials that have incredible resonance (preserving your guitar's tone and sound) and great looks.
Durability
High-end materials are no good if they don't last. For most players, simple mechanics that work with their guitar will suffice. The average guitar player should look for solid rubber, stainless steel, and aluminum capos with a simple spring mechanism.
But if you're a demanding player who travels a lot to play professionally, you might want a capo that can stand up to the rigors of the road. That means highly adjustable features for various guitars, excellent ergonomics, and premium materials that last forever.
Even an affordable capo should last for years of playing. A high-end capo should last a lifetime or longer!
Ease of Use
A capo needs to be simple for casual players: Your acoustic guitar is in standard E tuning, and you need it in F. So you slap a capo on the first fret and get back to jamming. The good news is that most capos will work for your acoustic and electric guitars; you can take them off and put them on with one hand. 
If you have a more discerning ear and want adjustments that make the capo fit your instrument better, the trade-off will include it being a little harder to use.
Some models use a knurled wheel to turn a screw that fine-tunes the tension, helping the capo apply even pressure across the strings. These models are still easy to use but might require two hands or a bit of patience.
Other capo models have a set of inserts and pads that you have to swap out to find the best set for your instrument. These high-end capos might even work for other stringed instruments. The downside is they take a bit of time to set up.
Conclusion
The best capo for an acoustic guitar is the G7th Performance 3 Art capo. It has the right blend of features, affordability, and ease of use for most players and their instruments. It's made of durable materials and comes in three colors. 
Whichever acoustic guitar you pick up, this capo is probably going to work and work quite well. It creates even pressure across the fretboard and is stable, even when placing it high up the neck.
If you need to play in alternate tunings, check out the best capo for your acoustic guitar today!