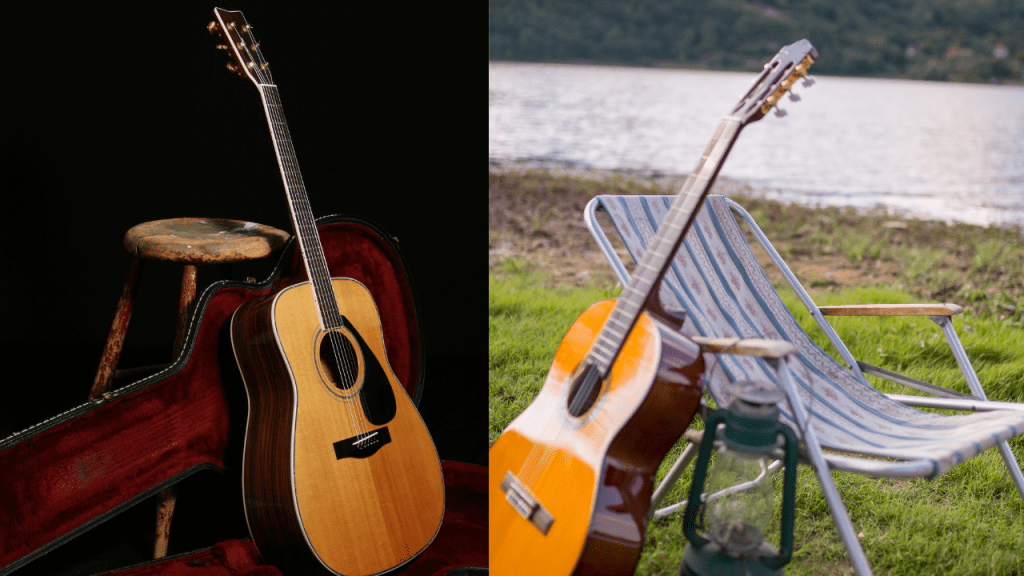 To save you some time if you're looking for the final verdict, the best chair I've found for playing guitar is this: the K&M 14045 Stool. 
Having played the guitar for several years, I know the struggle of finding a good chair that feels like a good height and also includes a footrest but no arms. A barstool is a decent fit, sure, but it's never been my favorite. I kept gravitating toward a middle ground of half-perching on a barstool with one foot on the ground. So I felt it was time to dig a little deeper, and find the best chair for playing guitar.
My explanation of the K&M 14045 as my guitar stool of choice will make more sense in context, but in short, I love how adjustable everything is, even including the angle of the seat. Gone are the days of awkward half-perching because I couldn't lower the seat. Keep reading to find your own perfect chair for playing guitar, or why not check out this video on the importance of good posture and comfort while playing.
The Best Chair for Playing Guitar, Reviewed
This list is broken down into three loose styles of chairs: guitar stool/stand combos, drum thrones, and more "classic" style guitar stools. Good luck finding the best fit for you!
The Best Seat/Stand Combos
These picks are some of the best two-for-one deals out there: when you're playing your guitar, they support you, and when you're not, they hold your guitar. Convenient, right?
Pros:
Highly affordable price point
Includes a footrest
Suitable for most adults' height and weight
Folds up for easy transport or storage
Cons:
Height is not adjustable
Lack of cushioning
The Harley Benton guitar stool and stand may not be the fanciest chair you'll ever sit on, but it could become your favorite for practicing or performing with your guitar. That's because it gets the job done right. You get a barstool-height stool, a guitar stand, and a footrest all built into one piece of furniture that folds up.
This is the best chair for guitar players looking for a dedicated guitar chair that won't break the bank but still checks all the boxes in terms of function.
---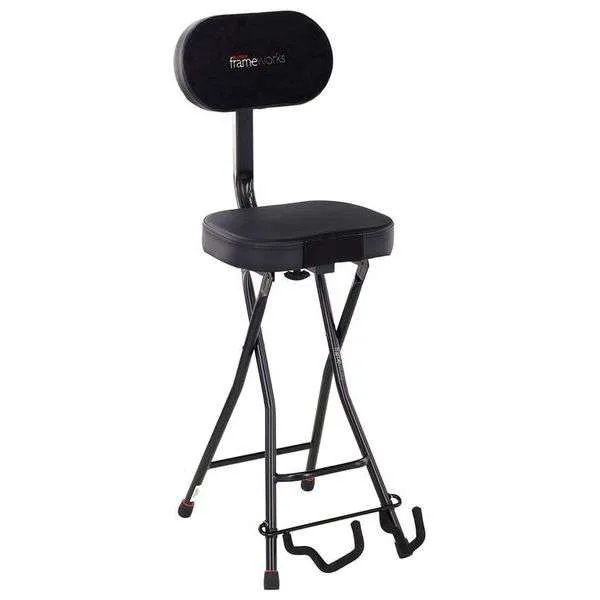 Pros:
Backrest, footrest
Folds up for easy transport or storage
Padded seat
Supports up to 300 lbs (136 kg) of weight
Cons:
Somewhat heavy to carry (13.2 lbs or 6 kg)
Height is not adjustable
Gator's guitar seat and stand combo is a more feature-loaded take on the combo style. It has a backrest, footrest, and a decent amount of cushion in the seat. It's also a relatively solid build. It may weigh more and therefore be a little more cumbersome to carry, but that also means it can support a greater weight capacity.
This chair might be the right fit for you if the guitar stand feature appeals to you, but you like the padding and/or backrest that the Harley Benton one doesn't include. 
---
Pros:
Brand name and aesthetic appeal
Backrest (removable), footrest
Folds up for easy transport or storage
Padded seat
Supports up to 300 lbs (136 kg) of weight
Cons:
Height is not adjustable
Somewhat heavy to carry (13.2 lbs or 6 kg)
Higher price point
If you're reading this list in order, the Fender 351 seat/stand combo might sound oddly similar to Gator's competing model. Truthfully, these two chairs are almost identical except for the additional aesthetic appeal of Fender's.
With the brand name and tweed/faux leather accents comes a higher price tag, unfortunately. But the price difference between these Fender and Gator chairs is only about $20 at the time of writing, so it might be worth it to you to opt for the extra-cool Fender guitar chair. 
---
The Best Drum Thrones For Playing Guitar
You may not have thought to look at drum thrones for playing guitar. You're probably used to seeing them positioned at lower heights for drummers, but the truth is that many of them are highly adjustable and they come with an extra emphasis on sturdiness at any height.
Pros:
Very comfortable saddle-style seat
Height adjustable up to 65 cm or 25.5"
Padded seat
Extra stable on 3 legs
Cons:
May sit a bit low for those used to barstool height
Lack of "extra" features
This chair might have won the #1 pick for this list if it was based on comfort alone. Though the motorcycle saddle style isn't for everyone, my personal opinion is that it's tough to beat. It feels very stable and still extends to a reasonable height for guitarists who want to sit higher.
That said, the shorter max height is probably the biggest downside to this seat. It might bother you if you're very tall. You also might not enjoy the fact that, besides the outstanding comfort of the seat itself, this drum throne is pretty simple. Still, this is a good one to check out if you like this style.
---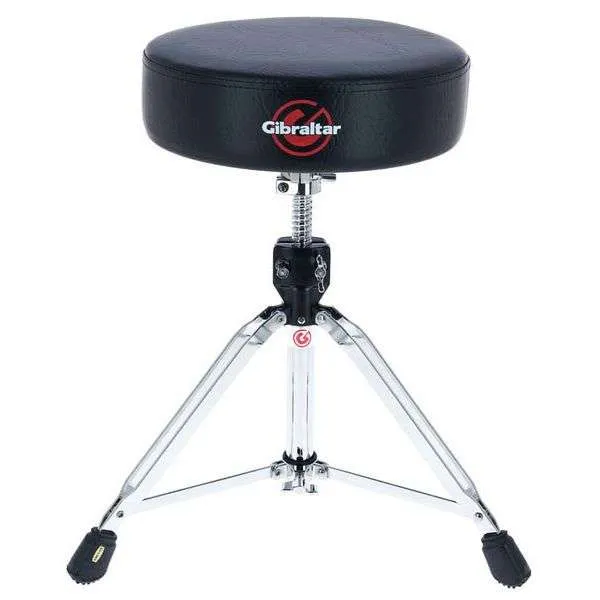 Pros:
Height adjustable up to 70 cm or 27.5"
Padded seat
Brand name
Extra stable on 3 legs
Cons:
Higher price point
Lack of "extra" features
This drum throne is not complicated, feature-wise, but it gets the job done well. The seat is circular and nicely cushioned. The height is adjustable enough to accommodate guitarists who want to sit higher than a typical chair.
The Gibraltar 9608E could be the right choice for you if you're also a drummer or are looking for a simple but reliable drum throne-style stool to play any instrument. The price is a bit higher, perhaps, but the quality matches. 
---
Pros:
Adjustable height up to 78 cm or about 31"
Footrest (ring), also adjustable
Padded seat
On wheels (but includes flat attachments, too)
Cons:
Higher price point
A little less sturdy (5 legs, wheels)
This seat stands out as the most versatile drum throne-style chair you can use for playing guitar. This is the one you'll want to go with if you're very tall but still like the style because its maximum height is about 6 inches taller than the average barstool.
But the Millenium DH-500 offers more than height – it has a footrest, too, as well as the optional capability to roll around like an office chair. The seat itself is unremarkable: circular and not thickly padded but still comfortable.
The beauty of this chair is that it's useful for playing just about any instrument. So if you're a multi-instrumentalist, this could be a great fit. 
---
The Cest "Classic" Guitar Stools
If you're reading this and thinking that you don't really need your guitar stool to double as a guitar stand, but you prefer the taller, barstool-esque style over a drum throne, these picks could be for you. These are made specifically for playing guitar but without the stand included.
Pros:
Height adjustable up to 90 cm or 35.5"
Comfortable saddle-style seat
Adjustable seat angle
Folds up for easy transport or storage
Cons:
The K&M 14045 Stool is a bit of a unicorn for its unique construction that collapses easily but is also extra comfortable and adjustable. It can reach great heights of almost a yard off the ground while still keeping you remarkably stable in its saddle-style seat. You can even adjust the angle that the seat tilts for maximum flexibility.
The only real "catch" here is that this stool does run on the more expensive end. It is arguably worth the extra money, though, especially for multi-instrumentalists or those who need that extra height or seat inclination. 
---
Pros:
Adjustable height up to 78 cm or about 31" (86 cm or about 34" without the backrest)
Backrest and footrest, both individually adjustable
Folds up for easy transport or storage
Seat is padded
Cons:
Guitar holder piece not included (but inexpensive add-on)
Somewhat low maximum weight (100 kg or about 220 lbs)
This is a great choice for guitarists who love everything about the guitar seat/stand style but just don't feel the need to have a dual-purpose chair. It's light and folds up, includes a backrest and footrest, and everything is adjustable.
The biggest flaw is that the Millenium ST-95 doesn't also hold your guitar, but it should be noted that you can buy a holder that will fit as an add-on. The weight capacity of 100 kg or 220 lbs might be frustrating for some guitar players, too. 
---
Guitar Stool Buying Guide: What To Look For
Though it perhaps goes without saying, personal preference reigns king here. The best chair for you depends on your specific needs. But considering these factors might help you narrow down your list of potential options.
Basic Stats
First, think about the objective characteristics that matter to you the most, like
The height of the seat, or range of adjustable heights (a barstool is about 25" off the ground, for reference)
The weight, if portability is important to you
Whether or not it doubles as a guitar stand
Whether or not it includes a backrest, footrest
Chair Style and Comfort
The structure of this list hopefully helps here. Think about these characteristics:
Seat padding and construction (saddle vs circle, etc.)
The sturdiness of the legs
The aesthetic appeal and/or brand logo
Price point
Budget is an undeniable limiting factor in any purchase. However, all the listed chairs run from around $30-150 at the time of writing, to give you an idea.
Conclusion
Any of these chairs are solid choices, but my personal vote for the best guitar stool is the K&M 14045. It stands out for making no sacrifices on comfort or adjustability while still being quick and easy to pick up and take elsewhere.
If you're interested, check it out for more details at Thomann.