I tested seven products and found the Hercules GSP38MB Mountable Guitar Wall Hanger the best guitar wall hanger for a low price.
As an experienced guitar player of over 15 years, I can tell you that I've gone through several different guitar wall hangers. While this product may not be an everyday purchase, it can quickly get expensive to replace mountable wall hangers continually.
I'm here today to tell you that I have tested several guitar wall hangers and found their strengths and weaknesses.
The Hercules GSP38MB model is great because it is not as expensive as some of the premium wall hangers but is much more durable for its price point. This model will last a long time without pulling out your wallet.
This model will get you the best hanger for its price, as guitar wall hangers can get pretty expensive.
Continue reading to find out which guitar hangers excel at which aspect and to learn more about the best guitar wall hanger.
The Hercules GSP38WB Mountable Guitar Wall Hanger with auto grip system is easily the most price-efficient guitar wall hanger. This hangar resides in the middle tier of the price range, going for around $25 on average.
It is slightly better than most other wall hangers, as it is sturdy and advanced. This hanger is similar to many other models, having a bolted piece of sturdy hardwood attached to it.
It also features claws you can adjust for the best hold on the instrument. Some hangers lose their curve over time, and it is nice to see a feature that allows for slip prevention.
This model has a bit more of a mechanical look than some other hangers, so consumers should make sure this type of hangar will look good in their studio room. This model will get you the nicest hangar without ripping your wallet out.
---
Some individuals want a guitar hanger that only does the bare minimum. The Gator Frameworks Wall Mounted Guitar Hanger is as essential as it gets, and this model features no particular utility beyond just holding a guitar by the end.
It has a cradle design meant to hold the guitar up, and its sleek and minimalist color scheme fits in almost any style or room. The hooks on the mount are made of rubber to prevent damage to the guitar from extended use.
This model is an excellent option for newcomers or utilitarians. It does not go for style or flash but keeps the price down by doing the bare minimum function, holding up a guitar.
---
Some individuals want a guitar hanger that does much more than the bare minimum and is willing to pay more. If price is of no concern and you only want the premium product, look no further than the Gravity Stands Display Guitar Wall Holder for Electric Guitars.
On a technical level, this hanger from Gravity is easily the best guitar wall hanger available. This model is easy to set up and can hold much more weight than the other options.
This model is quite flashy and looks very lovely as a display option. Those looking for a hanger that provides the best features and examines the nicest should consider Gravity as an option.
---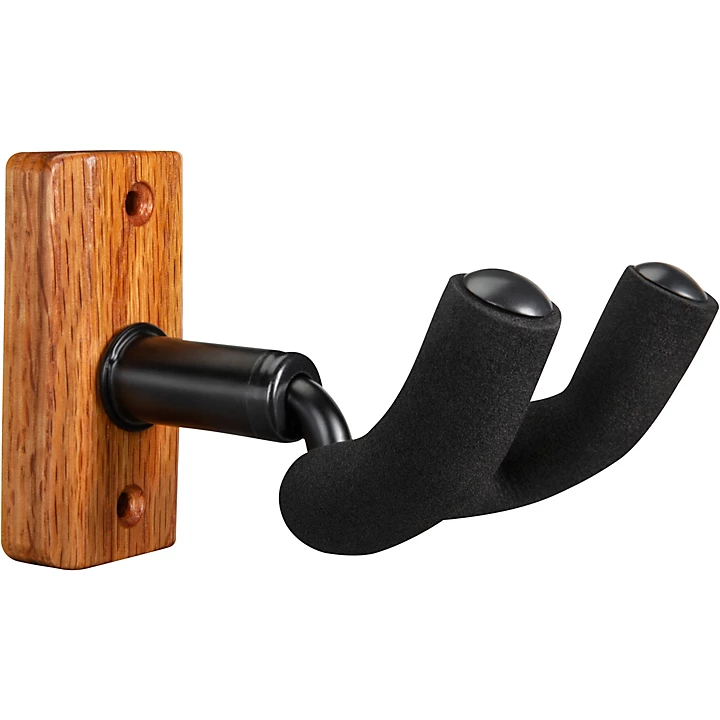 As another solid option in the mid-price range of this list, the Proline Solid Wood Guitar Wall Hanger provides a sturdy and visually appealing way to hang your guitar.
Mechanically, this model is not much more complex than options on the lower end of the price spectrum. However, this model comes in lovely colors such as cherry wood, mahogany, or a futuristic-looking black.
Consumers looking to purchase this model put visuals above all else, as this is the most admirable-looking model reviewed today.
---
The On-Stage 5-Guitar Wall Hanger is the most expensive guitar wall hanger available, but it makes up for its price point by providing five times the function.
While this rack is undoubtedly lovely for displaying several guitars in the same spot, I would note that it took me the longest to set up the guitar racks I tested for this review, coming in at almost 15 minutes with its drill bits.
This guitar rack is for experienced musicians who own multiple guitars or plan on collecting several guitars for display. The instruments look lovely when lined up on one unified hanger rather than displayed separately on five different racks.
---
The Gravity Stands Wall Mount Guitar Hanger Neck Hug stands out because of its sharper angle and adjustable grip.
For those looking for a wall hanger that allows for adjustable tightness and wants to avoid a fall, look no further. This model features a flexible protective rubber grip to keep the guitar firmly in place without damaging it.
Unlike the curved hooks on most standard guitar hangers, this gravity stands model allows the consumer to place their guitar on top and tighten it as much as possible, leaving less room for error.
---
Suppose the price is your only concern when buying a guitar wall hanger. In that case, the Musicians Gear Metal Guitar Wall Hanger is the cheapest functioning model on the market. This model does one thing: holding a guitar on a mount.
While certainly, the least flashy and exciting to talk about, this musician's gear wall hanger will get the job done at the lowest price point one can find. This mount is padded and made of steel to hold up a guitar without harm.
One should also note that this model is the simplest, which was the quickest and easiest to assemble out of the box.
Those looking for a functioning guitar hanger cushioned enough not to damage anything should look into this model, and it will get them just that at the lowest price available.
---
Best Guitar Wall Hanger Buying Guide
Mountable guitar wall hangers will vary, even though many seem very similar. So what should you look for when buying a guitar wall hanger?
Grip Strength and Maximum Weight
Consumers should be on the lookout for features such as grip strength and maximum weight, as not all guitar mounts will be able to carry your specific guitar model.
The Mount
Buyers should also consider looking at how the guitar hanger mounts. Not all guitar hangers are mounted the same, and some may leave a more lasting mark on your walls than others. Avoid drills and other options that will put a hole in your wall if you want to prevent permanent damage.
Style
Generally speaking, guitar mounts are very minimalistic and only really come in black or gray. Consumers looking for something flashy may want to consider another means of displaying their guitar, as guitar hangers tend not to stray too far from the norm in style.
Conclusion
In the end, musicians looking to invest in the best guitar wall hanger should look into the Hercules GSP38MB Multiple Guitar Wall Hanger. Different guitar wall hangers will feature various perks. Still, this model easily gives you the best utility for its price point.
If you want to buy the Hercules model or another option on this list, check out guitarcenter.com for a complete list of options. Also check out Thomann.
You can click here for more reviews on other musical accessories.