I have played guitars with locking tuners from quite a few manufacturers over the years, and I consider Grover Rotomatic locking tuners my top choice for the best Les Paul locking tuners. 
My friend Per, who helped me out greatly with this article, has more than twenty years of experience as a guitarist, and he has done pretty much everything you can do with a guitar. He started first as a classical guitar student, then played in a large jazz band, and now gigs exclusively with a wedding band that plays all kinds of songs by request.
His band can play it all, whether it's the Allman Brothers Blue Sky, Jackson Browne's On The Run, or Michael Jackson's Billie Jean. And they usually keep the audience rocking all night, as long as they can stay in tune!
Why Replace Your Tuning Machines?
If there's one thing I've learned over all of the years of practicing, jamming with friends, and playing live on stage to a paying audience, it's that going out of tune sucks. By far, the most common 'surgery' I've done on my guitars has been to replace the factory tuning machines.
Even on very nice guitars, playing hard sometimes means going out of tune, and when you hit the high note, and it's a bit flat, you look and sound like a clown.
That's where the Rotomatic tuners from Grover come in. After I upgraded the stock tuners on my Les Paul to these tuning machines, all of my tuning worries disappeared.
After that easy modification, everything changed. I could focus on the rhythm and even where my next vocal harmony might be instead of constantly checking my tuner on my rack and making adjustments as I played.
I've been delighted with my set of Grover 106C Rotomatic tuners, and I bet you will be too if you fit them on your guitar. But they're not the only locking tuners on the market. Let's look at the top four locking tuners for Les Paul guitars so you can make the best choice.
Why Are Grover 106C Rotomatic Locking Tuners #1?
These tuners don't just do the job. They excel at making tuning effortless, precise, and lasting. Once you lock in your tuning, it's not going to change, even after you play hard for quite a while. Sure, you'll need to make adjustments when setting up and re-tuning with your band, but these tuners are exceptional.
As a huge bonus, they also fit a large majority of Les Pauls, as their footprint matches the standard, traditional setup. That means you can probably avoid drilling out the existing holes to accommodate the new tuners or other more significant modifications. They also have an 18:1 gear ratio, a completely sealed housing, and each package includes all the mounting hardware.
But don't just assume these tuners are automatically the best choice, as other locking tuners work really well for Les Paul's. Some are even much more affordable, so don't just run off and buy this set without reading more, or you might end up disappointed.
Best Les Paul Locking Tuners Reviews
Each of these four Les Paul locking tuners deserves a look if you're considering an upgrade for your guitar.
These locking tuners are unbeatable for owners of a newer vintage Les Paul model guitar. That's because they match the existing footprint of your existing tuners, which means you won't need to do any drilling to mount your new tuners.
But, just because they match up well with newer model Les Pauls doesn't mean they don't work with older models. In fact, they probably do, you just might need to make some minor adjustments. And as a bonus, they bring state-of-the-art 18:1 gear ratio and sealed machine heads, internal cam-posts, and a rear knob that locks the string in place to maintain your tune during rigorous jams.
Product Highlights
18:1 gear ratio
Modern tuning machines, classic chrome finish
Internal cam-post
Steel string-post material
Includes all mounting hardware
Chrome color
---
In a 3+3 setup, these D'Addario tuning machines are an ideal choice for upgrading your Les Paul guitar. Built to withstand the rigors of tremolo use, they should be more than adequate to withstand your jam sessions on a Les Paul, even if you play really hard.
They also have an innovative feature that makes string changes really easy. A patented system allows you to trim excess string while tuning the guitar, eliminating the need to carry around string cutters and making string changes lightning fast.
An 18:1 tuning ratio, a simple wheeled clamp for locking down your strings, and the slick string-cutting tool make these tuners hard to beat. They're also fairly affordable, and you can choose among a few colors to best match your guitar.
There are a few possible drawbacks to keep in the back of your mind. It's likely you'll need to open up the peg holes a bit to make them fit. You may also need to expand the holes for the mounting screws. And, the included screws are quite easy to break, so be very careful not to over-torque them.
Product Highlights
18:1 gear ratio
Innovative automatic string cutter saves time
Built to withstand tremolo use
Available in three colors (chrome, black and gold)
Includes all mounting hardware
---
These Gotoh Magnum locking tuners are not cheap. But they're not overpriced at all. They offer precise tuning, a classic look, and they should fit many models of Les Paul without modifications.
If you decide to go with these Gotoh locking tuners, it is highly doubtful you will be disappointed in their quality. They are a premium option, and they deliver the fit and finish you would expect.
Product Highlights
18:1 gear ratio
Removable metal tuning knobs
Very solid construction
Available in gold or chrome
Includes all mounting hardware
Coated gears eliminate the need for oiling
---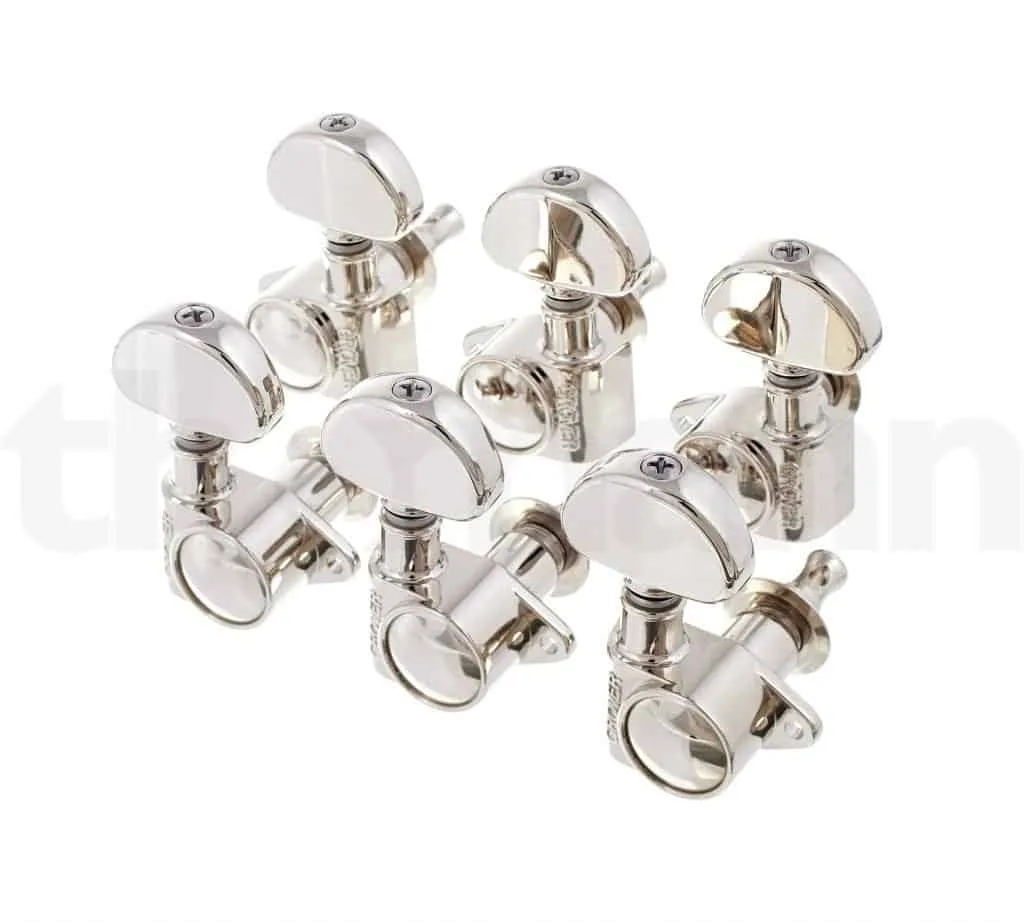 Grover's 102-18N locking tuners have something that tuners from other brands do not. They are made by perhaps the premier manufacturer of tuners in the world. They've been featured on famous specialty guitars like Tony Iommi's SG Special from Gibson.
The Grover name is pretty much synonymous with quality tuning heads.
It's also pretty likely these locking tuning keys will fit your Les Paul guitar without the need for much modification, if any at all. But depending on the exact model of your guitar, you may end up needing to buy slightly different screws to better fit your existing mounting holes.

That shouldn't be a big deal, and these locking tuners are quite affordable.
---
Les Paul Locking Tuners Buying Guide
When you're looking to purchase a set of locking tuners, be on the lookout for these features and potential issues.
Compatibility
Not all tuning heads will work with all guitars. If you buy a set that isn't a good match for your ax, you may end up needing to make extensive modifications to your guitar to make them fit. If you're not an instrument luthier, you will likely be biting off much more than you can chew, and making a mistake can end up ruining your guitar or costing big dollars to fix.
For instance, all Les Pauls come in a 3+3 configuration, with three tuners on each side of the headstock. Other guitar models have all six tuners on one side of the headstock in a line. Not all compatibility is obvious, so keep a close eye on the height of the post, the diameter of the holes required, and all the rest of the specifications.
Tuning Precision
All guitar tuners need to be precise. Otherwise, you're going to struggle to tune the strings accurately. So, look for 18:1 gear ratios or better. The higher the ratio, the more accuracy you can achieve. That way, once you have the exact tune you need, you can use the mechanism on your locking tuners to keep the string in tune.
Make Things Match
Locking tuners come in a variety of colors to match all the different styles of guitars out there. You can likely find some that work well with your style.
You can think a little bit outside the box too. Just because your guitar currently has chrome tuners doesn't mean you can't convert to black locking tuners. I opted for jade tuning heads on my Epiphone gold top, and they look great!
That's a Wrap!
After looking through all these tuners together, I think you can see why I prefer the Grover Rotomatics overall. They are the best Les Paul locking tuners because they fit well, have extremely precise tuning accuracy courtesy of their 18:1 gearing, and don't look out of place on any model of the Les Paul. 
They are a bit pricey, and all of the other products in this review represent excellent choices. I would be happy to have any of them as an upgrade on a Les Paul guitar I struggled to keep in tune.
So, if you're getting frustrated by the need to constantly adjust your tuning, get some new Les Paul locking tuners from Grover or one of these other top tuner makers today.