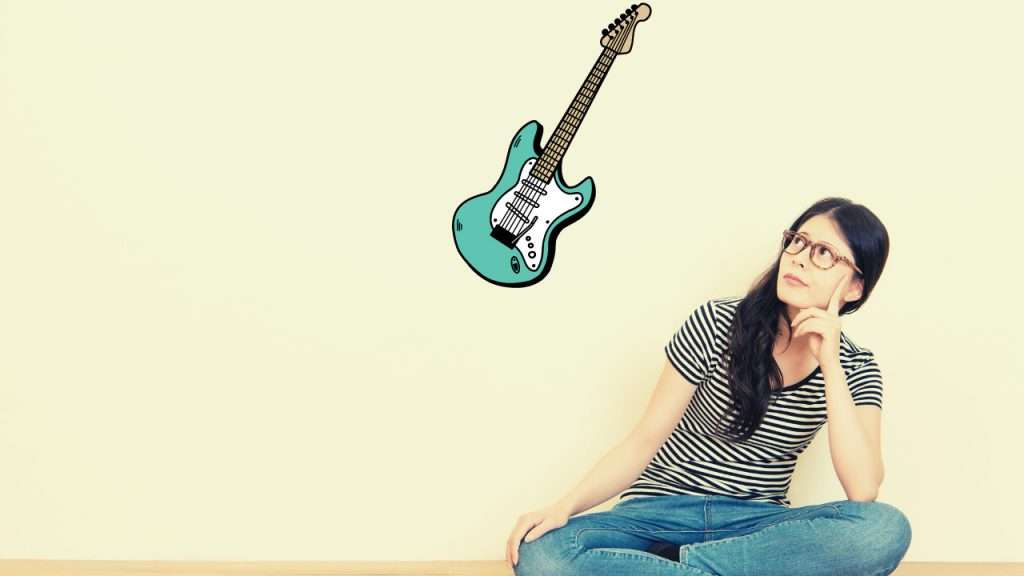 Ok, so I have this guitar pick. It is red and it is probably around 55-60 years old or so. Thinking about it, I could not make out the material of which it was made, but I don't think it is plastic. I found it in a drawer and it was labeled NYLON West Germany. It is old, but I think it is really cool.
I know that my dad played his guitar using it. I also have his guitar, an acoustic guitar that on the back of the neck has a label that says "Made in the USSR". It has no brand name, and the neck has never fit correctly to the body of the guitar. The black color on the neck is worn off and it needs new strings if ever to be played on again. It is old – but I think it is really cool.
I Don't Even Play Guitar
I am not a guitar player myself. But I love music and guitars are fascinating! And on so many levels! For me, the question "why play guitar" is not hard to answer.
I managed little more than a semester of guitar lessons in fourth or fifth grade. That was after playing the flute for two years – because you HAD to start out with the flute before moving on to another instrument. And all I wanted was to play the guitar.
But playing the guitar was never my thing. I did not have the patience to practice enough to get to the next level. I still think it is fun to pick up the flute and play every now and then when I find one. But to pick up a guitar – never! I admire them for their beauty, and I admire those who play them from a distance.
Appearance Matters
So why am I so fascinated with this instrument? Well, their appearance for starters. They can be oh so beautiful. Pieces of art really.
The Swedish Hagström guitars and their Alvar and Viking models are nothing but real beauties, with their perfectly balanced round and soft symmetrical shapes and gorgeous details. Check it out for yourself!
Come to think of it, their Jazz models, even though not symmetrical, are just as magnificently shaped and detailed in their appearance.
If I could (financially), I would have one in each color hanging on the wall just to look at them. And God knows I have the wall for that! By the way, this is NOT a collaboration paid for by Hagström! But if I did have them there, on the wall, just to look at – perhaps once in a while a guitar playing friend could come by. And play some of them just to please my ears.
When it comes to more plain looking guitars – yes, as a non-guitar-player and a guitar illiterate, I am allowed to call them that – such as Stratocasters, Telecasters and Flying V, I would say that what they lack in astonishing beauty and details, they make up for in terms of rock 'n' roll. Nothing says that more than these types of guitars.
My favorite would be the Telecaster. Its plain look and non-projecting part of the top where the strap button is placed, makes it so much more appealing than a Stratocaster.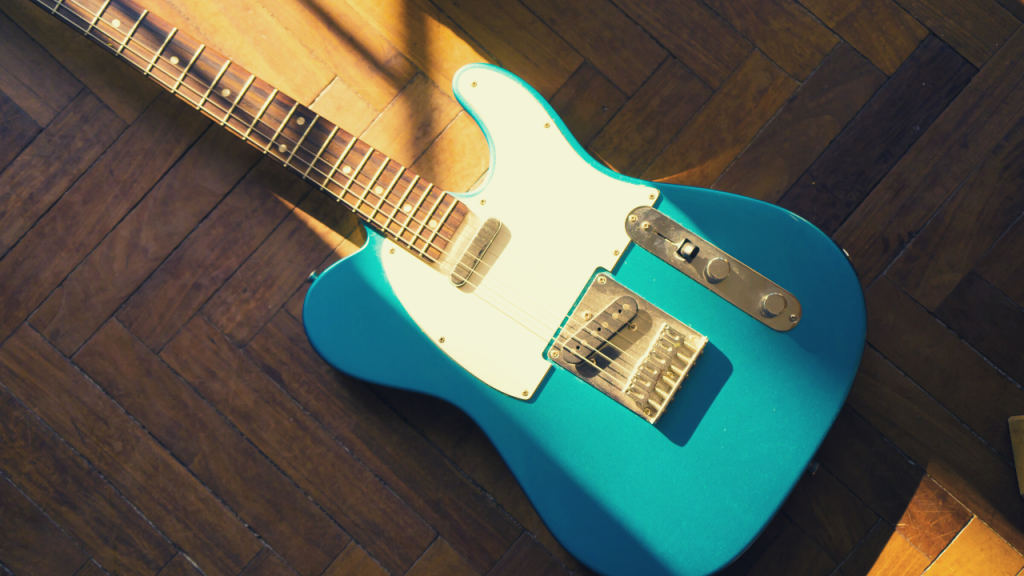 It could be that my teenage hero had one. He bought it as a 22-year-old for $ 185 and has played on it ever since. I guess you can figure out who that is. And to be correct, as I know that some of you already know, that guitar is a "mutt" made from an Esquire neck and a Telecaster body.
Also, the Telecaster almost always looks like it is part of the player's body. It never seems to feel uncomfortable or to be in the way. Just a natural extension of the guitarist.
So about acoustic guitars – I am not sure I am one to appreciate them enough just by the look of them. The asymmetrical guitar bodies are definitely more appealing than the symmetrical ones. And darker wood looks better than the lighter (which in my opinion turns yellowish with age).
That said, I do appreciate seeing for example Christian Kjellvander with his smaller version, ¾ size maybe, I have not been able to find out for certain. Or the Gipsy Kings on stage, all with their big guitars up on their chests – quite an impressive sight!
Of course, I cannot leave the subject of appearance without talking about the Les Paul. I saved the best for last…
This guitar is the number one in looks! Just close your eyes and picture one of those high gloss versions in almost any Sunburst shade…
I heard somewhere that the Les Paul is easier to play than a Stratocaster due to its lower string tension (when using the same gauge strings). So if this is true, in my book you do not only look better with a Les Paul, but it is also easier to play better – which would make you look even better! Win-win, huh?
The Way They Sound
Moving on from the superficial subject of appearance to sound. A much deeper subject, right? Well, to tell you the truth I have so little knowledge of the different types and names of the sounds of the electric guitar, it is quite embarrassing.
I know what I like and what I do not. Sometimes it is the bare sound of the guitar and sometimes it is how it aligns with the rest of the song and arrangement or the melody.
A jazz guitar piece can get you into the most harmonic of vibes, whereas the Blues gets you, well the clue is in the title…
Both genres are equally breathtaking. If you by any chance have not come across BB King's The Thrill Is Gone or Eva Cassidy's version of Stormy Monday live from Blues Alley (guitar played by Keith Grimes) – congratulations! You have the virgin experience of those songs in front of you! I cannot help but feel a touch of envy.
As for rock, metal, punk and even pop, weren't the guitar parts of these genres so much better in the 80's? Who doesn't love the songs and performances from the late Eddie Van Halen? Not to mention Dire Straits and their many, many excellent songs. Please listen to Telegraph Road if you are not familiar with it. Pure magic if you ask me.
The Guitar Players
On to guitar players. There are so many, and no matter who I choose to mention, I will pick the wrong ones and the right ones, forget some and favor others. But they do add style, flare and personality to these instruments.
Here is a bunch to check out if you have not already: Stevie Ray Vaughan (Tin Pan Alley for crying out loud!), David Gilmour, Jimmy Page and Eddie van Halen. I have already mentioned him, but he deserves to be mentioned again – with honors!
Jimi Hendrix of course! The left-handed icon that, according to some reading I have done in the past, played on several regular Strats, just flipped them over and re-strung them to accommodate his left-handed playing. Apparently he could also play right-handed although he was a naturally left-handed guitarist. At least for me, this adds another dimension to the admiration I have for him.
I am not much of a Yngwie Malmsteen fan, but that is mostly due to my taste in music. But the man needs mentioning as he is truly an outstanding guitar player.
More up my alley is the Dutch guitarist Jan Akkerman. Take a listen to Puccini's café or Pietons (feat. Eric Vloeimans) for example and let me know what you think. Another favorite is the 2 min and 45sec long guitar solo from Zac Brown's Stubborn Pride.
I must mention a Swedish guy I have seen live a couple of times, Axel Andersson. He is a young guitarist from Halland, Sweden who takes on any genre with an eagerness and energy that is contagious. He is extremely thorough and technically very talented. And to top it off, I have never seen someone have so much fun playing live!
I do have a thing for people who can get totally lost in whatever they are doing, no matter what it is. And here, musicians often stand out, not hearing or seeing the rest of the world once they are into their playing. That kind of focus is impressive!
What About Amps?
And amps… Well, this is going to be a short one. I know that you guitar players out there have your favorites as they all have their different features, sounds and designs. But for me it comes down to only one thing: The Design. And for me there is only one worth mentioning: Marshall.
Can it be more classic? Can it be more rock 'n' roll? Any of their models can turn my head at any time without exception. I would love to have someone trying to convince me that any other amp looks better – anyone up for the challenge?
Final Thoughts
There are a bunch of lyrics that mention guitars or guitar players – and I am a lyrics person – but only one line has really stayed with me. It is the first line of Zac Brown's Wild Palomino:
A sad song sounds sadder
On an old Gibson
It only gets better
Played a thousand times
And then read that again – and then one more time. What do you make of it?
Well, so I guess if you put a Les Paul in my hands, with a Marshall amp hooked to it and handed me the old red nylon guitar pick, there is a slim chance you can get me to try (play is too strong of a word) a chord or two. I guess that will also be the day I change my last name to Humbucker.
This is nothing more than a personal reflection from a guitar illiterate who loves music, looking into your fascinating world from the outside.
To conclude, is there really any instrument that can compete? In my mind, no.
The sheer number of different sounds or models and colors makes it rule them all. All the accessories and must-haves and the way the instrument makes you look way better with it than without it really sets it apart. Well, here we have a contender – the Saxophone – so close, but it fails in the other categories.
So if you have chosen the guitar as your instrument – congratulations! You have my sincere blessing and respect, and may your journey be as heavenly as you want it to be (despite all the hard work) and take you as far as you want. And if you're still undecided which guitar to get, check out this guide How To Choose A Guitar.